Certified Medical Assistants Exam (CMA) Practice Tests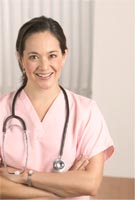 The CMA certification is awarded by the certifying board of the
American Association of Medical Assistants (AAMA)
. The AAMA confirms a Certified Medical Assistant or CMA status on PA candidates who take and pass the CMA examination.

Eligibility

Eligible candidates for the CMA must be a graduate of any accredited medical assistant training program.

The accreditation agency is the ABHES (Accrediting Bureau of Health schools). If the training program is not accredited by the ABHES then it should be accredited by the Commission on Accreditation of Allied Health Education Programs (CAAHEP). Candidates must also have completed an internship.

Exam Dates & Registration Deadlines

The CMA exam is given three times in a year. The examination is usually given on the last Friday of January, last Saturday of June and the fourth Friday of October.

To take the test in January, candidates must apply by October 1st of the previous year at the latest. Application for the June exam closes March 1st, and July 1st is the last application day for the October exam.

What is on the CMA
Medical Terminology including, roots and stems, prefix and suffix, surgical procedures, diagnostic procedures, and medical specialties.
Anatomy and Physiology including, structural units, anatomical divisions and Body Systems.
Communication including body language, listening skills, non-verbal communication and patient interviewing techniques.
Fundamental writing skills including, sentence structure, grammar and usage and punctuation.
Medical law and ethics and important legislation including, Occupational safety and Health (OSHA), Food & Drug Administration (FDA) and Americans with Disabilities ACT (ADA).
Insurance.

CMA Practice Test Questions

Anatomy and Physiology
Anatomy and Physiology II
Taking Vital Signs
Medical Terminology
Medical Abbreviations



CMA Practice Tests
2 CMA Practice Tests, Bonus Ebooks like How to Study and How to Take a test, and more. Over 400 questions with full Answer Key and explanations, prepared by a dedicated team of experts with advanced degrees.


ISBN: 978-1-927358-23-8
Pages: 210

Learn More >>>

Only $19.99