Nelson Denny Study Guides and practice tests in EVERY format including iPhone, Android, Print, ePub and PDF!
How to Pass the Nelson Denny Exam

Exam Structure and Format

The Nelson Denny Reading test takes 45 minutes including instruction time.

The Nelson Denny exam has two sub tests and four scores as below,

Vocabulary. 80 multiple choice questions. The content is typical of any high school or college textbook.

Reading Comprehension. 5 short passages are given, also from general high school or college textbooks followed by 38 multiple choice questions based on the given passage.

Usually, about 50% of the questions are factual and the other half inferential. The total reading score is derived by adding the vocabulary score and the comprehension score. The comprehension scores are doubled to compensate for the greater number of questions in the first subset.

The Nelson Denny reading test is also used to identify reading problems to predict academic success, as well as a measurement of positive educational interventions. The most valid academic predictor is the college and high school GPA (.56).


Nelson Denny Study Tips and Test Preparation

Terrifed of Tests? Test anxiety is one of the leading causes of poor test performance. Tips on how to handle test anxiety >>>



Before the Test - What you MUST do before the test - learn more >>>



How to answer Vocabulary Questions


ND Practice Test Questions

Practice Reading Comprehension Questions - (includes Main Idea and Making Inferences)

Vocabulary Practice Questions - Part 1 and Part 2

Full Customization and White Label service is available for this title - More Information
Nelson Denny Reading Test Study Guide and Practice Tests Complete Study Guide including hundreds of pages of Tutorials, Self-Assessments, 2 sets of practice test questions, Complete guide to multiple choice strategy, Complete guide to taking a test, and over 500 Practice Test Questions. Paperback - 240 pages
Order NDRT Study Guide - Printed Version (Amazon) $29.99
Order Download Version - $19.99 PDF Version of Printed Version. Download after purchase.
Rated 4/ 5 based on

2

customer reviews
Nelson Denny Practice Tests Nelson Denny Reading test Practice Test Questions Over 240 reading comprehension and vocabulary questions with test tips and multiple chocie strategies. Paperback - 124 pages
Order Nelson Denny Practice Tests - Printed Version (Amazon) $19.99
Order Download Version - $19.99 PDF Version of Printed Version. Download after purchase.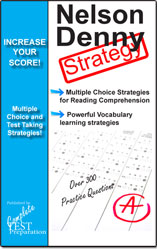 Nelson Denny Strategy! Winning multiple choice strategy for the Nelson Denny reading test. Learn and practice multiple choice strategies for reading comprehension and learn powerful vocabulary boosting methods! 198 pages
Order Printed Version (Amazon) $14.99
Review for:
Pass the Nelson Denny
This book was a great study guide
Very good study help. This book gave me lots of words to learn that was very useful to pass the Nelson-Denny. I recommend this book to anyone that is not a super reader.
Written by:
Avonne Anderson
Date Reviewed:
November 28, 2012
Complete Test Preparation Inc.
921 Foul Bay Rd.
Victoria
,
BC Canada