BC Provincial Exam
Taking the 
British Columbia

Provincial Test? We can help! Free practice test questions, test strategy and test tips
About the Exams
All students in grades 10, 11, and 12 must write the provincial exams.
Exams are held in November, April, May and August.
All exams are 

electronic

 (computer based) only. Tips for increasing your score on 

electronic

 exams.
Got Questions?
Taking the BC Provincial and have questions?  Ask me about the test or Test Prep!
Exam Content Grade 10
Apprenticeship

 and Workplace Mathematics 10
Foundations of Mathematics and Pre-

Calculus

 10
English

First Peoples

Science
Exam Content Grade 11
Civic Studies 11
Social Studies 11

BC First Nations

 Studies 12
Exam Content Grade 12
BC First Nations

 Studies
Communications
English
English 

First Peoples
Getting Started
Test Strategy 7
Types of Multiple-Choice Questions 10

Multiple-Choice Quick Tips
Answering Multiple-Choice Step-by-Step
Multiple-Choice Strategy Practice 20
Answer Key 39

Reading Comprehension Practice
Answer Key 66

Word Problem Multiple-Choice Strategy
Types of Word problems 77
Practice Questions 87
Answer Key 90

How to Write an Essay
Common Essay Mistakes -1 103
Common Essay Mistakes - 2 105
Writing Concisely 107
Avoiding Redundancy 109

How to Prepare for a Test

How to Take a Test
Reading the Instructions 122
How to Take a Test - The Basics 123
In the Test Room 127
Avoid Anxiety Before a Test 132
Common Test-Taking Mistakes 134

Conclusion
Winning Multiple Choice Strategies for the BC Provincial Exam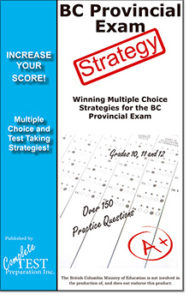 Increase your score with test tips, strategy for English, reading comprehension and math.  Prepared by experts! Includes practice questions
Softcover
The BC Provincial Exam is administered by the Province of British Columbia, Ministry of Education, who are not involved in the production of, and do not endorse this publication.