How I Swam, Without Having to Cram; A Student's Guide to Taking those Tests
Posted by

Date

December 11, 2019

Comments

1 comment

Up your Study Game
When I first started packing for my first year of university, I thought how my life would be consumed with hunkering down in some dusty library until the wee hours of the morning to simply pass all my classes. The good news is that that was not the case, and I had plenty of time to go on outings with new friends, while still pulling off quite a few A's.
I did need to up my study game though after the advice of an instructor noted that per each hour of class time there should be three hours of review. This sent sirens through my mind of the dusty library image but that is not what my year looked like. I am not a crammer, so following this idea of continuous review was so helpful and I made a class-to-test study guide with four sections that very much made my life easier, and not dusty.  If you have to cram
Part One, Two, Three Overview
For the next three sections there are some scoping out to do before hand. One is to find a place you can concentrate in to make notes, read texts and other forms of study. Productive study environment.  I liked cleaning my desk of random items, closing the door and siting down there, but I've met various people who studied in places such as the library, lounges, a booth at a local restaurant and even the woods! Take your pick, just make sure there won't be things there that might distract you.
Another tip is to not study hungry. Make sure you are well fed and hydrated to minimize those biological distractions and keep your brain fueled.
Part One: In Case the Instructor Doesn't Show Up, Be Ready to Teach the Class Yourself.
Classes are where the test content is given verbally. This is the place that notes to study from sprout. I found that looking at any readings and overviews of the lecture beforehand was very helpful. Making up general notes from the reading and then formatting them in sequence with the lecture overviews allows you to follow the lecture more easily and eradicates walking into a lecture totally blind.
This way, you will not spend the class ferociously scribbling down notes but just adding missed tidbits and helpful examples given by your instructor. It will help make the class more relaxed which in turn will help you absorb the material better.
Part Two: Address the Elephant in The Room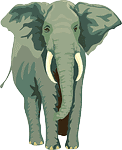 There may be parts in the lecture and readings that you are very familiar with and understand well. Stay familiar with these but you can take less time studying them. You want to find any totally new or difficult materials that you might be having trouble grasping. Reread and ask your friends what they understand of the section and try to formulate your own understanding of it. Don't settle for not knowing. If you still feel shaky, ask your instructor for clarification by booking an office meeting. Make sure you walk in with a clear question or two because if you walk in and ask for them to retell you the full lecture they more then likely will tell you to reread notes and come back later. Questions like "from my understanding this… am I on the right track?" will stimulate a more pinpointed conversation that will help you be able to nod along with the material when you go back to reread notes.
Part Three: Practice Works for Skip Rope and it Works for Tests Too.
 When you are able to nod along with lectures and make alien material your friend, the bulk of studying is done. Now it is to simply keep the material fresh for the test. This can be done by studying in a group with snacks to stave of hunger, by creating tests for yourself to try, or if reading over notes and adding to them is your style then stick with that. Everybody learns differently and try and find the best method for you. A good resource that can help and could be worth checking out is https://test-preparation.ca/learning-styles-complete-guide/.
This guide is something that kept me well above drowning in studying and kept my grades afloat at the same time. It is personally adaptable and will hopefully help students like myself get those grades but without the dusty library and zero free time.

Written by: Keira Folkins