How to become a welder in Canada
Welders have a diverse range of skills and work in various industries, including aerospace, manufacturing, and shipbuilding. Welding is a suited to individuals who like metal and are good with their hands. Welders have numerous job possibilities, and professional welders are in demand.
Why become a Red Seal Welder
While a Red seal certification is not mandatory for welders, earning it comes with benefits such as job security and a higher salary. Perhaps the greatest benefit of becoming a red seal welder is the freedom to move across the country working as a welder without needing multiple provincial certifications. It does not matter where you got your qualification certificate; a red seal certification allows you to operate as a welder in any territory or province.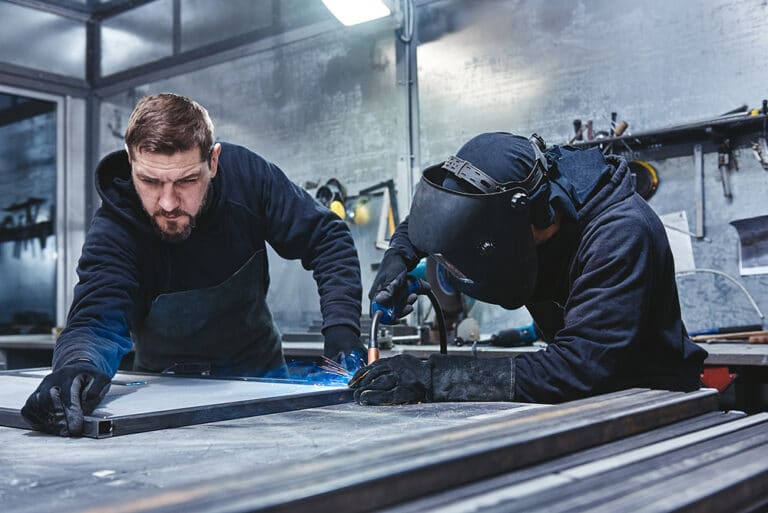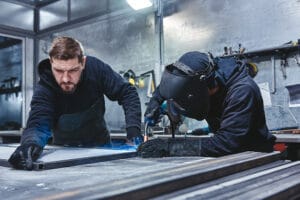 How to become a welder
Finish High School or get your GED.
If you haven't finished high school, you will need to get your high school equivalency, the Canadian GED.
Go to Tech college
Attending a technical college is not compulsory but highly recommended. Formal education does have s benefits, though and will probably get you a better job with higher pay. Formal education teaches proper techniques, and welding fundamentals, and you will gain actual experience operating equipment, practicing safety protocols and more.  A recognized technical college can also help earn certification from the Canadian Welding Bureau (CWB).
You can also take a two-year welding diploma program to gain a much broader education. Some companies require a diploma, and tend to pay more, while others offer an apprenticeship program.
Entry requirements for College
Entry requirements are flexible.  Most colleges require high school, or the GED, and others, will admit students without high school, if they complete a basic skills test, which covers basic mathematics and language skills and can be done in under an hour. Since welding is hands on, colleges require that all students have an eye exam before gaining admission to the course.
Get apprenticeship training
Many skills needed for welding are gained from practical work experience. Through apprenticeship, you are exposed to tools, equipment, technology, and various materials under the supervision of an experienced welding professional. Apprenticeships are a kind of internship, and most companies pay students while they train them on the skills needed for welding. Besides the experience, an apprenticeship may come with basic classroom elements.  Welder apprenticeship programs typically take 2 – 3 years.
Get certified (Red Seal Welder)
With the successful completion of an apprenticeship program, provincial regulations require that you sit for a standardized exam.  Once you have passed the Red Seal examination, you will be recognized as a Red Seal welder and will be able to work anywhere in Canada without the need for additional certification.
Occupational Outlook
Welders and related machine operators are in Demand!
For 2019-2028, new job openings (arising from expansion demand and replacement demand) are expected to total 23,200
Red Seal Welder Exam Questions
Red Seal Welder Exam
The National Occupational Analysis sets the standard for the Red Seal Exam. The standard gives a description of the knowledge and skills needed to efficiently perform your duties as Red Seal Welder. The standards are divided into blocks, which are further subdivided into tasks divided and sub-tasks. The Red Seal Welder exam has 125 questions divided into four blocks.
Block A
Block A contains 24 questions on common occupational skills in five sections.
Four questions on tools and equipment maintenance.
Four questions on material handling equipment.
Five questions to test a candidate's ability to perform activities related to workplace safety.
Four questions on work organization.
Seven questions on performing routine trade activities.
Block B
Block B tests your knowledge of preparation and fabrication of welding components. This section has 25 questions divided into two sections.
Six questions that involve layout performance.
Fifteen questions on component fabrication.
Block C
Block C contains 21 questions on cutting and gouging, divided into four sections.
Five questions that require the use of tools and equipment for grinding and non-thermal cutting.
Seven questions that test his or her ability to use the process of oxy-fuel gas cutting (OFC) for gouging and cutting.
Five questions that test your ability to use the process of plasma arc cutting (PAC) in cutting and gouging.
Four questions that test the ability to use the process of air carbon arc cutting (CAC-A) in cutting and gouging.
Block D
Block D has fifty-five questions on welding processes, divided into four sections.
Eighteen questions on the use of shielded metal arc welding processes
Twenty-one questions on the use of gas metal arc welding, metal cored arc welding, and flux cored arc welding processes.
Twelve questions on gas tungsten arc welding processes.
Four questions on the process of submerged arc welding.
Frequently Asked Questions
Welder Red Seal Upgrade Program is a registered trademark of the Boilermakers' National Training Trust Fund, who are not involved in the production of, and do not endorse this information. Complete Test Preparation Inc. is an un-official provider of test preparation material and are not affiliated with any red seal organization.