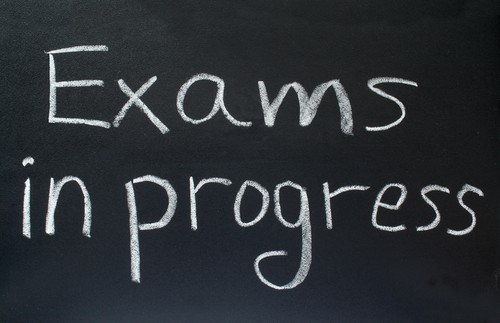 How to Prepare for a Test – The Ultimate Guide
Procrastinate? Or?
When faced with an exam most students hide their heads and procrastinate hoping that somehow they will be spared the agony of taking a test – particularly a big one that their future relies on. Avoiding the all important test is what many students do best and unfortunately they suffer the consequences because of lack of preparation.
Audio Version of this Post
How to Take a Test – The Basics – Video
How to Take a Test – Part 2 – Video
Think Strategy
Test preparation requires strategy. And it requires a dedication to get the job done. It is the perfect training for anyone planning a business career or any professional or life endeavor. Besides strategy you must have a goal and know what you are trying to accomplish. These tried and true concepts have worked well and will make your test preparation easier.
Standardized Tests
Standardized tests are by far the most common type of test.  They are called "standardized" because every student must answer the same questions. This allows teachers to establish the progress of each student compared to the rest. The great advantage of this kind of tests is that it can be adapted to any subject or theme (math, science, arts, etc).
Standardized tests are usually multiple choice, often with an essay questions and sometimes with a few open-ended questions.
Each problem has a one answer and any other is incorrect, and each correct answer has an exact credit. This allows for rapid marking and most standardized test have now migrated o computer assisted tests.
How to answer multiple choice   — How to Answer Essay Questions — Listening Comprehension — Analogy and Logic — Fill in the Blank
Reading Comprehension Tests
Reading comprehension is generally a component of standardized tests in High School, College Entrance and English as a Second Language (ESL) tests.  Reading comprehension appears on a huge variety of standardized tests because it is an ability that's important for all the areas of knowledge. This is the capacity to analyze the content of a text, understand its main idea, infer the meaning of words, draw conclusions and other skills common in everyday life.
Reading comprehension tests generally present the student with a passage, and multiple choice questions based on the passage.
"Self" Tests, Practice Tests, Self-Assessments
Self-testing, practice tests, or self-assessment are one of the best ways to get ready for a test.   Practice tests assess your strengths and weaknesses ahead of a test and are essential for making a study plan.   How to make a study plan.   Most Study Guides have a self-assessment section, as well as commercially available sets of practice tests, old tests, or DIY tests.
How to Study Math
Every Subject has its own method
Math is mostly numerical, not verbal and  requires logical thinking; it has its own way to be studied. Before touching on significant points of studying a math test, lets look at some of the  fundamentals of "learning."
How to Study for a Math Test
1. Learn Day-by-Day.  Learning is a process not an event. 
2. Attend Class
3. Find your Learning Style
4. Never Skip Something you Don't Understand
5. Practice Every Day
How to Study Science
Studying for the sciences is more difficulty and requires a different approach.   Here are a few different study test prep methods to try and see what works for you
How to Study Science – The Complete Guide
Classroom Strategy
Ask the instructor what will be on the exam. The teacher might tell you or might not but it is worth a try.
Keep any tests that are returned especially those with comments made on them and they make excellent review materials when studying and more than likely some of the same questions will be on the final test.
Pay attention in class. Listen to what is said. Often a teacher will tell you that a particular area will be on the test or reference things that might be there.
A study guide put out by the teacher offers a lot of information that might be on a test so keep these guides and it will likely be data that you can anticipate will be on a test.
Listen to teacher's clues to test questions that are often things like: questions that have been asked of the class or if the teacher has repeated something several times. Take note of these clues.
Take notes and ask questions. The best strategy is always to take notes and don't be afraid to ask questions when you Don't understand something.  More on Taking Notes
Students talk about Test Prep
During my first year of college, a professor told me that preparing for a test should consist of at least 12 hours of review. I was shocked by his suggestion because I thought I spent a reasonable amount of time studying and had some A grades to show for it.
Common Mistakes on a Test
Mistakes that cost you marks
We all know that tests are not much fun and when we take a test and make a stupid mistake we can be really upset – especially when it is something that could have been easily avoided. So what are some of the common mistakes that are made on tests that we should try to avoid whenever possible?
– Failing to put your name on a test – How could you possibly forget to put your name on a test? You would be amazed at how often that happens and usually those are thrown out immediately by a teacher so the person gets a failing grade on the exam.
– Circling the wrong multiple choice answer – This happens more often than you think and many times the person knows the right answer and was looking at it and then circled the answer right next to it or above or below it.
– Answering a question twice – This usually happens in a multiple choice question where two answers are circled – making it a wrong answer.
– Leaving an answer blank – This often happens when you skip a question because you want to come back to it – but you forget to do so. Anything left blank is always a wrong answer.
– Transferring the answer incorrectly from scratch paper – This can happen easily if you are trying to hurry and write down 1/2 when you meant 1/4 – thereby giving an incorrect answer.
– Ignoring the clock – In a timed examination many students lose track of the time and don't have enough time to complete the test.  See our post on Working with Time Limits.
– Thinking too much – Self doubts often occur especially when you are not really sure about the subject matter but you should usually stick with your first answer.
– Unpreparedness – Running out of ink and not having an extra pen or pencil is not an excuse that is usually tolerated – it's up to you to be prepared.  See our post, The Ultimate Guide to Test Preparation Strategy
– Not following directions – That are a number of words used in directions that have very specific meanings and if misunderstood or not read correctly, it can cause you points on that answer and worst case – it can make you fail the exam.
Test Instructions – Know What you are being asked!
Here Are Some Common Types Of Words Used In Instructions That Tell You What You Should Do For That Particular Section Of The Test:
– Analyze – This type of question usually means it is an essay so you should explain it thoroughly.
– Comment – This usually means that you should provide your explanation of the relevance of the statement that has been made.
– Compare – Simply explain the similarities and differences between two items.
– Contrast – Explain the differences only between two items.
– Define – This is usually a short essay or definition of a particular item.
– Demonstrate – This requires proof so you need to provide an example to answer the question.
– Diagram – Drawing a picture or chart to answer the question.
– Discuss – Frame the answer like a conversation providing pros and cons of the two issues.
– Enumerate – This is a list that is normally in a particular order like 1,2,3.
– Examine – This is your opinion on a particular subject which requires your reasoning as to why you reached your opinion.
– Explain – This needs your overview of an issue and your reasoning for your conclusion.
– Illustrate – This requires an example.
– Interpret – This requires your reasoning for your conclusion.
– Justify – This also requires your reasoning and examples to support your conclusion.
– List – This is a series of answers of a particular subject.
– Outline – This requires an explanation that usually has headings and subheadings.
– Order – This is usually a chronological listing such as dates.
– Prove – This requires your reasoning for your solution.
– Review – This is usually a recollection of important parts of a subject.
– Trace – This is to recollect something step by step – as an event.
Test Taking Strategy
Listen to the instructor to see if there are any time changes or other instructions that you need to be aware of.
Read the directions carefully. Many times a mistake can be made if you have not paid careful attention to the instructions.
Answer easy questions first. If you get stuck on a question, skip it and go back to it later. Don't get bogged down on one. Sometimes the answer will come to you later.
Use strategy with difficult questions. If it is a multiple choice question, you should eliminate the answers that you know to be wrong. If you still have difficulty finding the answer, then use your best guess.
Don't leave any question unanswered. It is better to be wrong than not to answer a question and you could be lucky and get the question right!
Test Taking Strategy
Review your test before you leave to ensure that you have answered every question. Also make sure that you have not mistakenly answered a question twice or mis-marked an answer. Any of these mistakes can cost you.
Proof your answers for grammar, punctuation or spelling errors.
What your professor wants to see on your test
How to Answer Different Types of Questions
True / False Tests – Many true / false tests have more than 50% of the questions that are true but that doesn't mean that every teacher will follow that theory.  More on True False test strategies
Absolute words – like never, none, always, every and entirely – usually imply that the statement must be true 100% of the time so it is usually a false answer.
Every part of a sentence must be true to make the answer true.
Negatives are very confusing so if a question uses 'no,' 'not' or 'cannot' then you should take those negative words out of the sentence and see what it says and you can determine whether it is indeed true or false.
Qualifiers open up or restrict statements – words like often, sometimes, frequently, generally or ordinarily hint at accurate statements and usually indicate true answers.
Long sentences with words set off by punctuation should be looked at to find the truth of the phrases which usually indicates a false answer.
Multiple Choice Tests – This type of question is often a phrase that has several options available for the answer.
Eliminate the ones you know are incorrect
Question those options that grammatically Don't fit with the phrase.
Question those options that contain negative or absolute words – substitute a word like frequently to always to see if it eliminates the option.
All of the above questions can trip you up but if you know that two out of three seem to be correct, then it is probable that all of the above is the right answer.
If there are opposite options available then probably one of them is correct.  Most Standardized Tests, and All High School Tests, College Entrance Exams and Nursing Entrance Tests are multiple choice.
More on Answering Multiple Choice and Answering Multiple Choice Part 2
Short Answer Tests – This type of question usually tests your fundamental knowledge of a subject.
Focus on key words and eliminate those that do not deal directly with the question asked and respond directly.
Use concise answers with short sentences containing key facts. Be brief and succinct in describing your response.
A guess is better than no response. Don't leave the question blank as usually your common sense will give you the answer required.
More on Strategies for Short Answer tests
Open Book Exams – These tests will evaluate your overall understanding of the material. These tests can vary by teacher as to what is allowed in class during the exam but could include books, notes or class assignments.
Be familiar with your notes and materials available for this test. You need to have everything well organized so that you can easily retrieve it when needed during the exam.
Use of sticky notes or color coding will help to keep track of summaries, headings or sections that might be needed during the test.
Use quotations to illustrate a point whenever possible.
Be concise and do not drag out the answers with long complex sentences.
Use good time management to ensure you complete the exam and Don't get stuck on a question that you can't find the answer to.
Essay Exams – These tests not only test how much you know in a certain subject but also determine your ability to explain the answers or arguments for them.
Read a question thoroughly to see how it is phrased to ensure you understand what is asked for.
State your main point in the first sentence and then provide specific examples or supporting information.
Develop each point and qualify your answers when you are unsure.
Summarize your central idea in the last paragraph and state whey it is important.
More on How to Study for an Essay Exam
Word Problems – Overview and strategy, plus video for solving word problems.  Solving Word Problems,  How to Study for a Math test
Strategy for Test Preparation
If you follow these easy to use guidelines you will improve your strategy for test preparation and will successfully breeze through your next examinations!