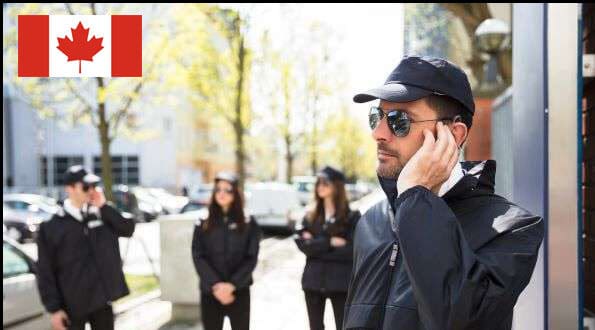 Canada Security Guard Practice Questions – Ontario, BC, Alberta Saskatchewan and Manitoba
Security Guards in Ontario are in Demand!
With economic growth, Canada's population is growing fast.  With economic growth and population, there are a huge number of new condominium and commercial buildings, as well as new retail.  This growth creates very favourable job opportunities in the private security industry, loss prevention personnel, and many other positions in malls, airports, hospitals and many other public buildings.
Security guards in Ontario make from $16 – $24 / hour.
License and Eligibility
Security Guards in Ontario are licensed by the Ontario Ministry of the Solicitor General and you must pass the test provided by the Ministry.  The for Alberta, Saskatchewan and Manitoba is very similar and licensed through their respective ministries.
Eligibility
18 years of age
Qualify to work in Canada
Criminal record check
Complete the Red Cross Emergency First Aid Course
Complete a Ministry approved training program and obtain a training completion number
Note:  The clean criminal record qualification does not include ALL criminal offenses, only the most serious.   Full list of offenses that will disqualify you here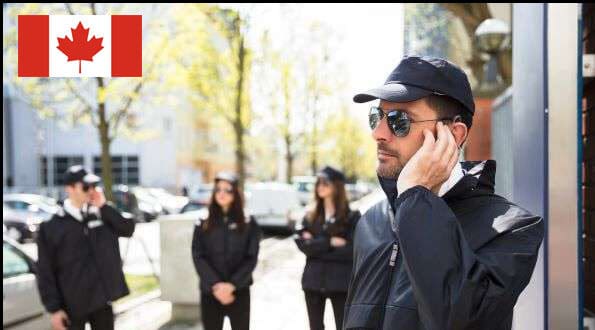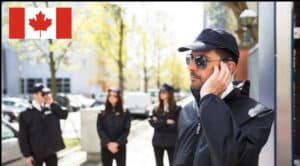 Ontario Security Guard Practice Test
Provincial License Training and Exams
The following provincial training are recognized as equivalent
Alberta
Saskatchewan
Manitoba
What is the salary of a security guard in Canada?
The average salary for a security guard is $2,836 per month in Canada.
Whats on the Test
Introduction to the Security Industry
The Act and Code of Conduct
Basic Security Procedures
Report Writing
Health & Safety
Emergency Response Preparation
The Canadian Legal System
Legal Authorities
Communications
Sensitivity Training
Use of Force Theory
About the Test
The test is a paper and pencil, 60-question, multiple choice format.
The test must be completed in just over 2 hours, 75 minutes for completing the test.
Fees
The cost is $66.50 plus HST,  total of $75.15.
Results
You will be notified of your results are within five business days
Passing Score
The passing score is 62 per cent.
Sample Canada Security Guard Test Practice Questions
1. Which of the following fuels are associated with a Class B fire?
a. Wood, paper, cloth
b. Gasoline, oil, grease
c. Metal, paper, cloth
d. Wood, paper, electrical equipment
2. When was the Private Security and Investigative Services ACT, 2005 (PSISA) proclaimed into force?
a. 2005
b. 2009
c. 2007
d. 2011
3. Which Regulation under the Private Security and Investigative Services Act, 2005, sets out what data a licensed business entity shall keep?
a. Information to be Provided to the Registrar
b. Insurance
c. Record-keeping Requirements for Licensed Business Entities
d. Registration Requirements for Business Entities
4. What is access control?
a. Any mechanism whose goal is to get the right person into the right area at the right time.
b. Ways that stop thieves from smashing doors.
c. Mechanisms that assure security of the property.
D. Distributing keys to locking mechanism to people who want access.
5. Which of the following is not a shipping and receiving control mechanism?
a. Special forms to be filled by the recipient.
b. Signing for deliveries.
c. Arrangements made to send the delivery to the ultimate recipient.
d. Deleting records of items that have been successfully delivered.
6. Which if the following is the first line of defense in protecting property?
a. The police
b. Patrol dogs
c. Fences and walls
d. Alarm systems
7. What is industrial espionage?
a. Unauthorized copying of software.
b. Unauthorized use of software.
c. Theft of industrial secrets owned by companies.
d. Non-legitimate use of company equipment.
8. Which of the following is main part of an alarm system?
a. Motion detectors
b. Shock sensors
c. Transmitter
d. Magnetic contacts
Answer Key
1. B
A Class B fire is a fire in flammable liquids or flammable gases, petroleum greases, tars, oils, oil-based paints, solvents, lacquers, or alcohols.
2. C
The PSISA was proclaimed into force on August 23, 2007.
3. C
4. A
Access control describes any mechanism whose goal is to get the right person into the right area at the right time.

5. D
6. C
Fences and walls form a perimeter around property form the first line of defense.

7. C
8. C
A transmitter is one of the main components of an alarm system or security system.
Basic Report Writing
Why English and Grammar is Important
Security guards communicate with clients, visitors, or employees, verbally and in writing. They need to communicate effectively, using appropriate language and tone, to provide clear instructions, answer questions, and report any incidents or suspicious activities. Good English language skills enable security guards to communicate professionally and effectively with people from different backgrounds and cultures.
You will be required to write clear and concise reports, including incident reports, daily activity reports, and shift logs. These reports must be accurate, detailed, and properly formatted, using correct English grammar and punctuation, so that they can be used as evidence if required. Good English language skills avoid confusion and misinterpretation of information.
You must read and understand various documents such as company policies and procedures, safety guidelines, and incident reports. Good English language skills enable security guards to comprehend these documents and ensure that they are following proper protocols.
The Test includes Writing skills:
English Grammar and Usage
Spelling
Canada Security Guard Practice – Writing and Grammar
Security Guard Practice Questions for Ontario, BC, Alberta, Saskatchewan and Manitoba
Canada Security Guard Practice test questions prepared by our dedicated team of exam experts!
For Ontario, BC, Alberta, Saskatchewan and Manitoba security guard.
Everything you need to pass the test!
Over 180 Practice Questions with full answer key! Including detailed answer key explaining why the answer is correct – and why the other choices are incorrect!
Practice Questions for :
Introduction to the Security Industry
The Act and Code of Conduct
Basic Security Procedures
Emergency Response Preparation
The Canadian Legal System
Legal Authorities
Use of Force Theory
Canada Security Guard Practice – Interactive Online Version
PDF Download Version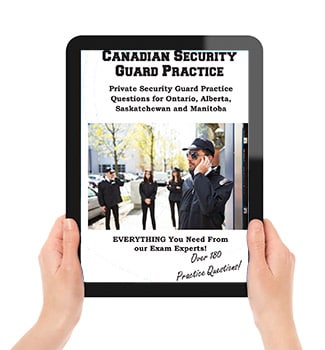 Complete Practice Tests with Full Answer Key
Download after Purchase