How to Become a Firefighter in Canada
Steps to Becoming A Firefighter in Canada
Check the local minimum requirements: All fire departments in Canada have some minimum education and physical requirements and they differ from province to province.   Most require a high school diploma, (or Canadian GED) and be in good physical condition at the very minimum. Many require additional education and training, such as a college or university.  Check with the Office of Fire Commissioner in your area for detailed requirements.  See below for physical requirements.
Get certified: Firefighters must have a valid Office of the Fire Commissioner (OFC)certification. There are OFC office in each province.  You can obtain this certification by completing a recognized firefighting program at a college or university, or by completing a combination of on-the-job training and and accredited program.  You will need to pass a series of exams and interviews in order to enter a program.  See below for contents of the test.
On-the-Job-Training: Once hired as a firefighter, your employer will provide additional training on the job. This may include additional classroom training as well as practical training on firefighting topics such as fire suppression, rescue operations, and hazardous materials handling.
Get licensed: After your training is complete, the OFC will issue a license to work as a firefighter in Canada. To obtain your license, you must pass a written and a practical exam.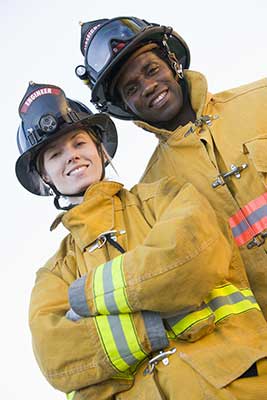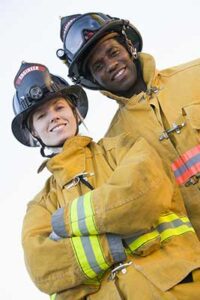 Canadian Firefighter Physical Requirement
Firefighters in Canada are required to be in good physical condition, as the job can be physically demanding.
Below are some physical requirements. Most fire departments require applicants to complete a physical fitness test.
Physical fitness: Firefighting is physically demanding work and firefighters must be physically fit to perform day-to-day tasks such as carrying heavy equipment, climbing stairs, crawling through small spaces,  lifting and carrying heavy objects, such as hoses, ladders, and rescue equipment.  Firefighters often work for extended periods in physically demanding conditions, requiring strength and stamina.
Coordination, Vision and Hearing: Firefighters require excellent hand-to-eye coordination, hearing and visual acuity.  Some fire departments have a vision test as part of the hiring process.  Most firefighter tests have a listening comprehension section.
Example Physical tasks in a Fitness test: 
Navigate in a Confined Space
Ladder Climb
Drag an 80 kb Sled 30 meters
Extend a ladder vertically 10.67M (35') to the maximum extension
Carry a hose or other heavy object 5 stories twice
Lift hose roll weighing 25kg (55lb) and carry to a height of 17m
Carry a hydrant kit in one hand and walk across the rungs of a 4.2m (14') ladder without falling off the ladder
Advance 45m (150') of charged 45mm (1¾") fire hose 30m (100').
Lift and carry a 41kg (90lb) roll of large diameter supply line 15m (50').
Requirements vary depending on the specific fire department you are applying to. Some departments may have additional requirements and some are more stringent than others.
Common Mistakes on the Canadian Firefighter Test
Poor physical fitness Firefighting is physically demanding, so if you aren't in excellent shape you may struggle during the physical test. Prepare yourself for the physical test in advance.
Poor time management on the test.   The Canadian firefighter test is a timed test.  How to manage your time on a test
Not preparing.  This is a tough test so make sure you know your stuff!  Firefighter practice questions here
Not following the test instructions.   This a common error on any test.  Read the instructions for each section and follow precisely. If you don't pay close attention, you will make careless mistakes that affect your score needlessly.
Inability to work in a team. Firefighters work closely with others, so candidates who don't demonstrate good teamwork skills are not a good fit for the job.  Your teamwork skills are assessed during the interview portion
Poor communication skills. Effective communication is crucial for firefighters.   Your communication skills are also assessed during the interview process.
Poor problem-solving skills. Firefighters must often solve complex problems quickly.
Failure to adapt.  Firefighters must adapt to changing situations quickly, so candidates who don't demonstrate adaptability may not be seen as a good fit for the job.
Most common Canadian firefighters tests
FF EL 100 Series
FF EL 200 Series
FF EL 300 Series
Fire and Police Selection (FPSI)
Comprehensive Exam Battery (CEB)
Practice Skills Test (PST)
Occupational Specific (OS Test)
How much do firefighters make in Canada?
According to the latest figures, the highest hourly average (median) wages are earned in Alberta at $47.27 per hour and the lowest average (median) wages are earned in Montreal – Quebec at $32.00 per hour.
A typical full-time annual salary for this occupation is in the region of $75,000 – $105,000.
Test Content
All the above test are broadly similar with a few variations.   Most tests have 100 multiple choice questions covering the following areas:
Reading Comprehension
Listening Comprehension
Vocabulary
Writing
Basic Math (Arithmetic, fractions, decimals, simple geometry)
Mechanical Aptitude
Map Reading
Logical and mathematical reasoning ability (drawing inferences, word problems)
Spatial Sense