Reading Comprehension
Types of reading questions that generally appear on the exam.
Drawing logical conclusions
Make predictions
Analyze and evaluate the use of text structure to solve problems or identify sequences
Vocabulary – Give the definition of a word from context
Summarize
Reading Comprehension Practice
Composition
This section tests your ability to articulate in writing, complex thoughts in a clear and concise way that is understandable to others.
This includes, vocabulary, spelling and English grammar.
Logic and Problem Solving
Questions likely to appear on the test:
Ordering information in a logical sequence
Map reading
Solving problems
Identifying patterns in data
Basic Math
Fractions
Decimals
Percent
Order of Operations
Word Problems
Memory and Recall
In this section you are given a list of people or cars, which you may review for 5 minutes, then answer comprehension questions.  Another format is a short passage which describes an incident, which again you may study for 5 minutes, then answer comprehension questions.
Situational Judgement
Situational Judgement questions test your judgement on the following topics :
Communication
Being a Team Player
Organizing and Planning
Building Relationships
Focusing on the Customer
Creative and Analytical Thinking
How to Answer Different Types of Questions
Complete Test Prep & Practice – PDF Download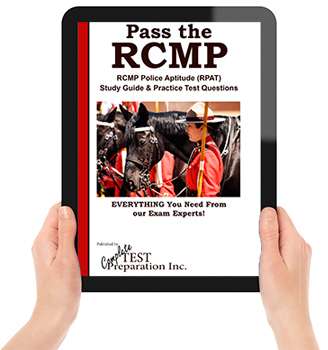 PDF Download Version of Print Version. Download after purchase.
Study Practice Online Course
Full Study Practice Online Course with tutorials, self assessments, quizzes, timed tests and more!