Taking the Canadian Forces Aptitude Test CFAT? Everything you need to know!
Exam information, and qualifications, free practice questions, multiple choice strategies, complete study guide in every format, online course, printed book, eBook, and PDF Download.

Version Française
Aptitude Test for Canadian Forces
Canadian Armed Forces Aptitude Test Qualification
You much be at least 17 years old, a Canadian citizen and completed at least grade 10 or Secondaire IV in Quebec.
The CFAT has 3 sections, Verbal Skills (VS), Problem Solving (PS) and Spatial Ability (SA).
Once accepted, you will start Basic Training, but you will want to start early.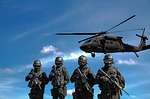 About the Canadian Forces Aptitude Test
Verbal Skills
Verbal skills in the CFAT are really just another name for vocabulary and analogies. The CFAT has four different types of verbal skills questions: synonyms, where you are required to choose a word with the same meaning, antonyms, where you are required to choose a word with the opposite meaning, and definition questions, where you are required to choose the definition of a given word.
Problem Solving
The Problem Solving section has three types of questions, Word Problems and number Sequences
Spatial Ability
The Spatial Ability section gives graphics of expanded shapes and you must choose what the shape will look like when folded or unfolded.  These are quite tricky if you are un-prepared!
Canadian Forces Aptitude Test FAQ
What the Recruiters Say
Our office had made a purchase of your product (Approx. 10 Books) and upon feedback that we have received from our troops, myself included,  I believe it is the best tool available for our members embarking on their CFAT
Lt / lt Ronald Nguyen
Personnel Selection Officer ψ, CFB Shilo
Department of National Defence / Government of Canada
Officier de sélection du personnel ψ, BFC Shilo
Ministère de la Défense nationale / Gouvernement du Canada
Satisfied Customer
I've taken the CFAT course recently and I can say for sure that studying with the CFAT app trainer and this website will greatly improve your odds of achieving the necessary score for the trade you want. Understand how to do long division, Multiplication, Subtraction, and Division will help you. I took the test and missed the trade I wanted by 2 points. If you study these points you will surely achieve the trade you're looking for. Good Luck. J.
Getting Started
How this Study Guide is Organized 8

Verbal Skills (VS)
Verbal Skills Self-Assessment 11
Answer Key 22
Help with Building your Vocabulary 25
How to Answer Verbal Analogies 28

Problem Solving (PS)
Problem Solving Self-Assessment 36
Answer Key 44
Types of Arithmetic Reasoning Problems 51
Sequences Tutorial 59
Types of Number Sequence Problems 60
Strategy for Answering Sequence Questions 63

Spatial Ability (SA)
Spatial Ability Self-Assessment 67
Answer Key 71

Practice Test Questions Set 1
Answer Key 96

Practice Test Questions Set 2
Answer Key 129

Conclusion
The Canadian Armed Forces are not involved in the production of, and do not endorse this product.
Written by, Brian Stocker MA., Complete Test Preparation Inc.
Date Published: Thursday, June 12th, 2014
Date Modified: Thursday, August 18th, 2022