Free Analogies Practice! Can you Answer them All?
The Same? Or Different?
Analogies are test questions where a pair of words are given, and you are asked to choose another pair with the same relationship. For more help answering Analogies, or Verbal Analogies as they are sometimes called, see our Analogies Tutorial. Analogies are a frequent item on Catholic High School tests, such as the HS Placement Test, TACHS and Cooperative Admissions Exam, as well as Private School Entrance Tests such as the ISEE.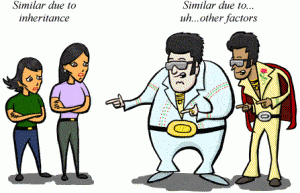 Practice Questions
1.  Nest : Bird 
a. Cave : bear
b. flower : petal
c. window : house
d. dog : basket
2.  Teacher : School
a. Businessman : Money
b. Waitress : Resturant
c. Dentist : Tooth
d. Fish :  Water
3.  pebble : boulder
a. pond : ocean
b. river: rapids
c. fish : elephant
d. feather : bird
4. Poodle : Dog
a. great white : shark
b. dalmatian : great dane
c. money : stock market
d. horse : pony
5.  fox : chicken
a. rat : mouse
b. cat : mouse
c. dog : cat
d. rabbit : hen
6.  lawyer : trial
a. plumber : pipe
b. businessman : secretary
c. doctor : operation
d. hairdresser : blow dryer
Answer Key
1. A
This is a Functional relationship.   A Bird lives in a nest, the way way a bear lives in a cave.
2 B
This is a functional relationship.  A teacher works in a school in the same way a waitress works in a restaurant.
3. A
This is a Degree relationship.   A boulder is a very large pebble – both are rocks, in the same way an ocean is a very large pond – both are very bodies of water.
4. A
This is a type relationship.  A poodle is a type of dog in the same way a great white is a type of shark.
5. B
This is a predator/prey relationship.  Foxes eat chickens in the same way as cats eat mice.
6. C
This is a functional relationship. A lawyer defends a client in a trial in the same way a doctor performs an operation on a patient.