Red Seal Carpenter
A career in carpentry is ideal for individuals who are good with their hands and like working with wood. There are multiple paths to becoming a carpenter that make it a flexible career to pursue.
How to become a carpenter
Steps to start a career as a carpenter.
Get a High School Diploma
Requirements vary in different parts of Canada. However, most companies and employers prefer you have a basic education, especially a high school diploma or the equivalent Canadian GED. Even in territories and provinces where high school education is not a mandatory requirement, it is important that you possess secondary education, especially in technical drawing, drafting, design, and math. These basic skills will serve as a foundation for you to build your carpentry skills on.
Complete a Technical Course in Carpentry
After a high school diploma, there are two routes to professional carpentry, a college certification or a direct apprenticeship. Many secondary schools offer a carpentry program.  This is a great option to test the waters and see how you like it, in addition to learning some basic skills.  Many secondary schools as well as technical colleges offer a work-study option where you can get real hands-on experience and get paid.
Carpentry Apprenticeship
You can get an apprenticeship in carpentry and joinery after completing a basic program in carpentry. An apprenticeship in carpentry is a great way to join the carpentry profession in Canada. You must be  at least 16 years old to be eligible for an apprenticeship. While on carpentry and joinery apprenticeship, you will balance between on-the-job training and college.
Apprenticeships are conducted and supervised by an experienced and certified carpenter. The program takes four years, and you must complete a minimum of 5,400 hours of on-the-job training besides technical training.
While taking a carpentry and joinery apprenticeship outside school, you will work as a hired apprentice and work for at least 30 hours per week. This path will enable you to get the basic skills in carpentry and work with senior and experienced carpenters.   Work experience plays a vital role in employment as a carpenter.
Get Red Seal Certified
Certification in carpentry is not mandatory in every province except Quebec. However, earning a certification is important as it comes with advantages such as increased employability and higher pay. Carpentry is a very broad profession, and certification shows your area of expertise, such as joinery, maintenance, and renovation. You can qualify for certification after completing an apprenticeship or you have four years of proven work experience. To earn a journeyperson certificate, you need to pass a certification exam. To work as a carpenter across provinces in Canada, you are required to sit for the interprovincial exam and become Red Seal certified.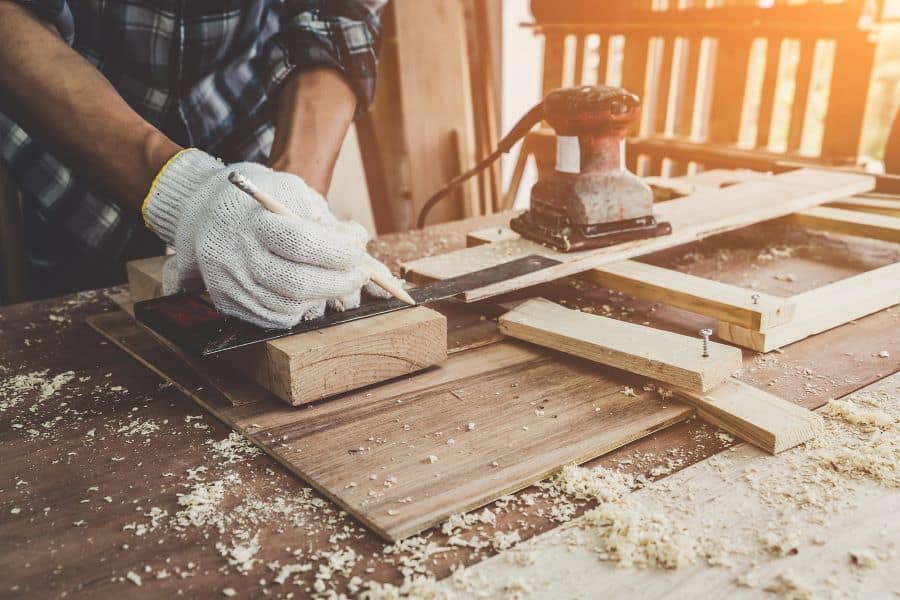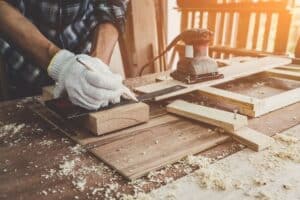 About the Red Seal Carpenter Designation
Designated Red Seal Carpenter in: AB, BC, MB, NB, NL, NS, NT, NU, ON, PE, QC, SK, YT
Trade title: Carpenter, in AB, BC, MB, NB, NL, NS, NT, NU, PE, SK, YT
Other titles used in provinces/territories: Carpenter – Joiner (QC), General Carpenter (ON)
The Red Seal Carpenter Exam
The Red Seal Carpenter exam tests a candidate's knowledge of carpentry activities. The exam is used by all territories and provinces to give the Red Seal certification. Most times, it is the final exam for carpenters.
The exam is a multiple-choice test
The passing score is 70%
The time limit is four hours.
The Carpenter Red Seal exam has 100 questions spread across the following 7 blocks:
Block A
Block A of the Carpenter Red Seal exam has four tasks with fourteen questions covering common occupational skills of carpentry.
Task 1 – Four questions on the use and maintenance of tools and equipment.
Task 2 – Three questions on performing safety-related activities.
Task 3 – Four questions on the use of building materials
Task 4 – Three questions that require them to build using temporary access structures.
Block B
Block B of the Carpenter Red Seal exam has three tasks with eighteen questions covering planning and layout.
Task 5 – Five questions that test his or her ability to interpret documentation.
Task 6 – Five questions on work organization.
Task 7 – Eight questions on layout performance.
Block C
Block C of the Red Seal Carpenter exam has two tasks with fifteen questions on concrete works.
Task 8 – Eight questions on formwork construction.
Task 9 – Five questions on installing concrete, epoxy, and cement-based products.
Block D
Block D of the carpenters Red Seal exam has four tasks, with 17 questions on framing.
Task 10 – Five questions on constructs floor systems.
Task 11 – Three questions on constructing deck systems.
Task 12 – Four questions on constructing wall systems.
Task 13 – Five questions on constructing ceiling and roof systems.
Block E
Block E of the Red Seal Carpenter exam has three tasks, with thirteen questions on exterior finish.
Task 14 – Five questions on window and exterior door installation.
Task 15 – Four questions on roof installation.
Task 16 – Four questions on the installations of exterior finishes.
Block F
Block F of the Red Seal Carpenter exam has four tasks, with 13 questions on interior finishing.
Task 17 – Three questions on the application of ceiling and wall finishes.
Task 18 – Two questions on flooring installation.
Task 19 – Three questions on the installation of interior doors and windows.
Task 20 – Five questions on installing and finishing stairs.
Block G
Block G of the Red Seal Carpenters exam has two tasks, with ten questions on renovations.
Task 21 – Four questions on renovation support activities.
Task 22 – Six questions on renovation specific construction.
Red Seal Carpenter is a registered trademark, who are not involved in the production of, and do not endorse this information. Complete Test Preparation Inc. is an un-official provider of test preparation material and are not affiliated with any red seal organization.