Spatial Relations Tests
Spatial relations tests are a type of cognitive assessment that measure ability to mentally manipulate and visualize objects in different dimensions, from two-dimensional shapes to complex three-dimensional objects. Questions usually ask you to disassemble or assemble objects, complete shapes or patterns, orientate objects in space, and correctly infer how 2D and 3D objects connect and relate to the space around them.  The difficulty level varies considerably depending on the position. Variations of the spatial relations test include the r-cube-sr test, r-cube-vis test, and visualization tests.
Purpose of Spatial Relations Tests
Spatial Relations Tests are essential assessments that employers use to gauge a candidate's multi-dimensional thinking capability as well as, abstract reasoning, cognitive ability, and visualization abilities.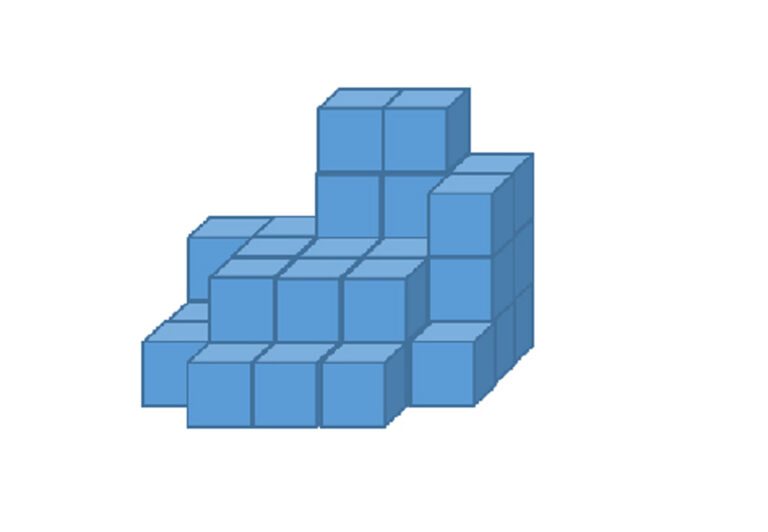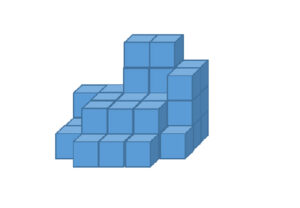 Jobs that use Spatial Relations as Entrance Exams
Spatial relations tests assess candidate's abilities in jobs where the relationships between people, objects, and the environment are critical, such as engineering, architecture, and design. These positions require spatial skill, to accurately interpret blueprints, recognize patterns, and manipulate 2D and 3D objects.
Employers regard multi-dimensional thinking as a vital skill for success in various jobs, including engineering, agriculture, and health care.
Architecture and Engineering.  These positions require strong spatial awareness to design and plan structures, visualize blueprints, and understand spatial relationships between building components.
Design  Almost any position in the design field such as graphic design, interior design, industrial design, and animation require strong spatial ability to create visually appealing and functional design.
Surveying and Cartography Surveyors and cartographers rely on spatial relations skills to measure and map land areas, determine boundaries, and accurately represent geographical features.
Aviation and Piloting Pilots and air traffic controllers use spatial skills to navigate aircraft, interpret aviation charts, and maintain safe distances between planes.
Geology and Geography Geologists and geographers use spatial awareness to interpret geological formations, analyze topographic maps, and understand relationships between landforms and natural resources.
Construction and Trades Jobs in construction, carpentry, plumbing, and electrical work use spatial skills to read blueprints, visualize how components fit together, and determine measurements for installations.  Canada Trades Entrance Test   Alberta Trades
Medicine and Radiology Medical professionals, including surgeons and radiologists, rely on spatial awareness for tasks such as interpreting medical imaging scans, planning surgical procedures, and understanding anatomical relationships.
Urban Planning and GIS Urban planners and Geographic Information System (GIS) specialists use spatial relations skills to analyze and map data, plan infrastructure, and make informed decisions about land use and development.
Military and Defense Military personnel, especially in fields like artillery, intelligence analysis, and navigation, require strong spatial abilities for tasks such as reading maps, estimating distances, and planning strategic operations.   Canadian Forces Test   TAFC
Firefighting and Emergency Response Firefighters and emergency responders often face complex spatial situations, making spatial awareness crucial for understanding building layouts, identifying escape routes, and coordinating rescue efforts.  Canadian Firefighter Test
Question Types & Figures Used in Spatial Relations Tests
Spatial relations tests require individuals to analyze and understand complex objects from different angles. To assess your spatial reasoning ability, standardized tests use a variety of question types and figures that will challenge you to spatially visualize two-dimensional and three-dimensional shapes.
Folding
Folding spatial relations questions give a two-dimensional object and you are asked to mentally fold it to create a three-dimensional object.  These questions test your ability to mentally rotate and manipulate objects, as well as understand spatial relationships and transformations.
Example Question
When put together, what 3-dimensional shape will you get?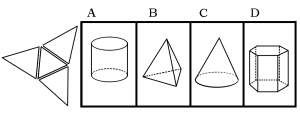 Answer:   B
Pattern Recognition
This type of spatial relations question involves identifying patterns formed when objects are folded or assembled. You need to determine the resulting pattern based on the arrangement of sides, corners, or markings. These questions assess your ability to visualize the arrangement of objects in space and identify the patterns that emerge from their transformations.
Example Question
When folded into a loop, what will the strip of paper look like?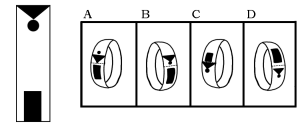 Answer: C
Assembly Questions
Spatial relations assembly questions present a set of two- or three-dimensional pieces or components. You are required to select the figure that represents the correct assembly of the given pieces. These questions evaluate your ability to mentally manipulate and arrange objects to form a coherent structure.
Example Question
Which figure represents the assembly of the following pieces?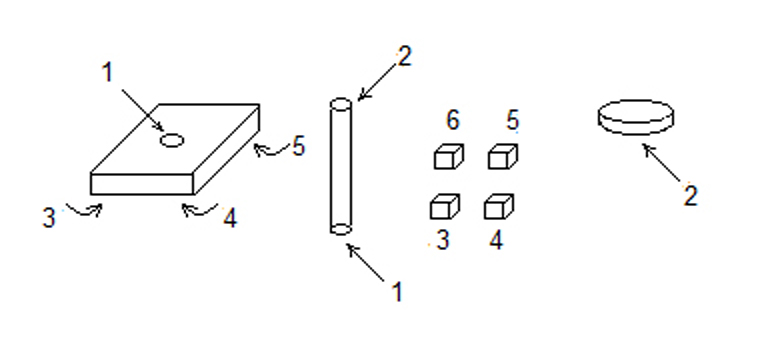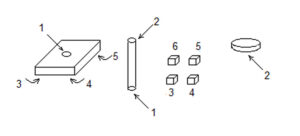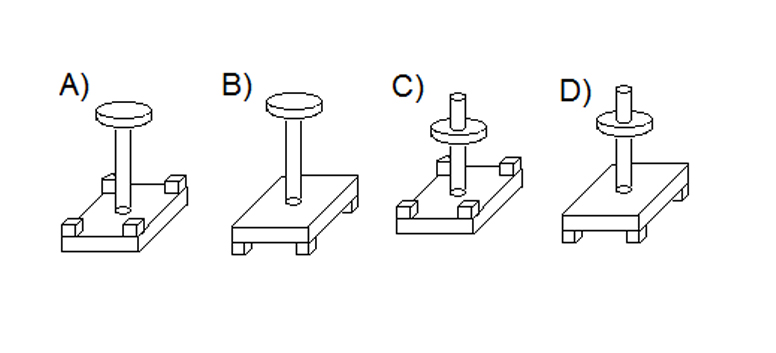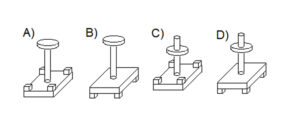 Answer:  B
If two pieces have the same number at the position shown, it means that point is a junction point. Here, the cylindrical rod is at center of the rectangular platform, the small cubes are below the platform at its edges and the disc is above the rod.
Line Following
Line following questions ask you to follow a line through a complex diagram in 2 or 3 dimensions.
Example Question
Which of the following is correct for the matching lines shown in the figure?

a. A-1 E-5 I-14 L-12
b. A-8 E-3 I-10 L-13
c. A-8 E-3 I-10 L-12
d. A-5 E-11 I-2 L-7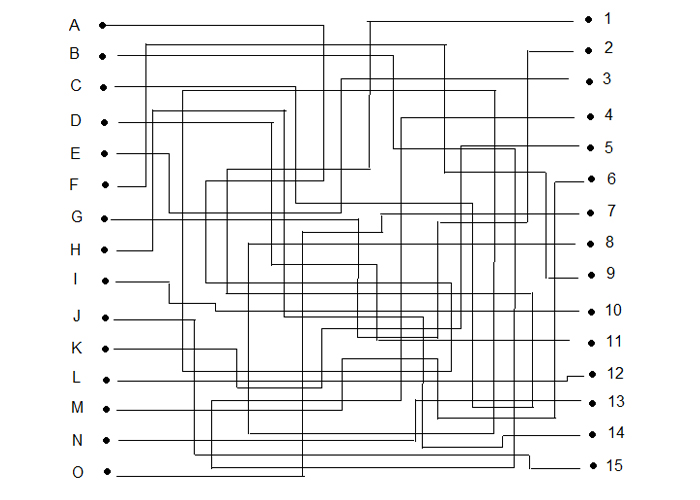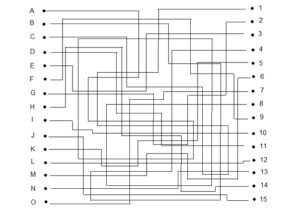 Touching Blocks
Touching Blocks questions give a complex image of blocks and you are asked to count the number of blocks a given block is touching.
Example Question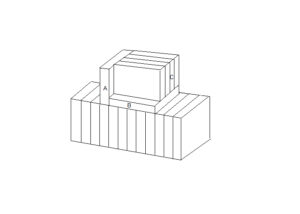 How many blocks is block A touching?
a. 4
b. 5
c. 6
d. 7
Answer: C
Block A touches 6 blocks (1 is below, 4 are lateral in vertical position and 1 is lateral in the horizontal position.)
Blocks (Cubes)
Blocks questions present a complex geometric figure made of a series of rectangular or square blocks.  You are asked the number of blocks in the figure.
Example Question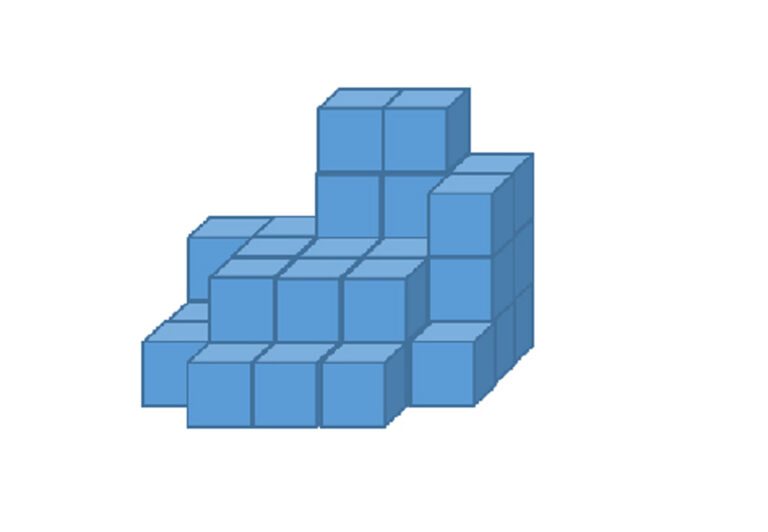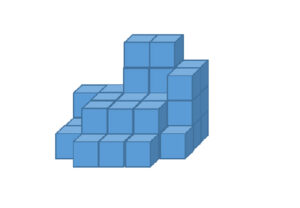 a. 30
b. 32
c. 35
d. 24
Answer: C
In the bottom row, there are 3 × 4 + 3 = 15 cubes.
In the next row, there are 2 + 3 + 3 + 3 + 1 = 12 cubes.
In the third row, there are 2 + 2 = 4 cubes.
In the upper row, there are only 2 cubes.
Thus, in total there are 15 + 12 + 4 + 2 = 33 cubes.
Cut Outs
Cut Out questions give a series of pieces, usually 4, and you are asked what shape they will form when put together.
Example Question
Which figure is formed by assembling the following pieces?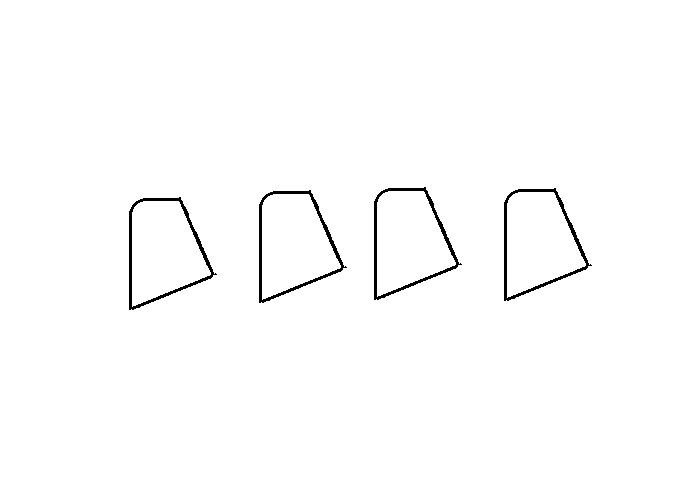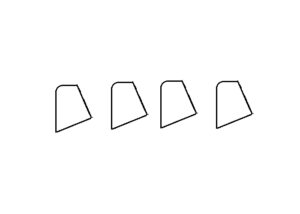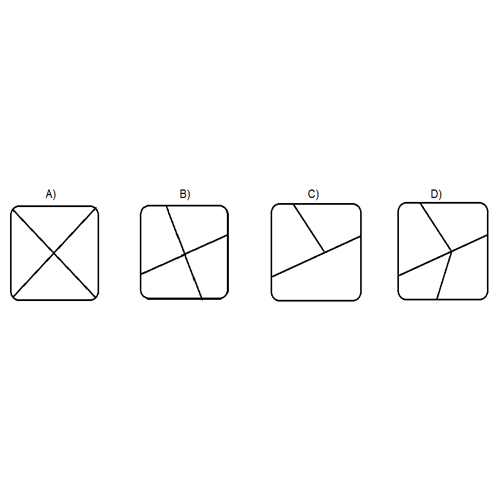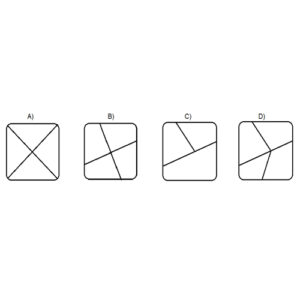 Answer: B
Since the pieces are identical, only the first two figures can qualify as candidates for the correct answer. The cutting traces in first figure represent the diagonals of the shape. This is not the case here. Hence, only the second figure fits the description.
Jigsaw
Jigsaw questions present an assembled jigsaw shape that is missing one piece.  You are asked to choose the missing piece.
Example Question 
Which option completes the figure below?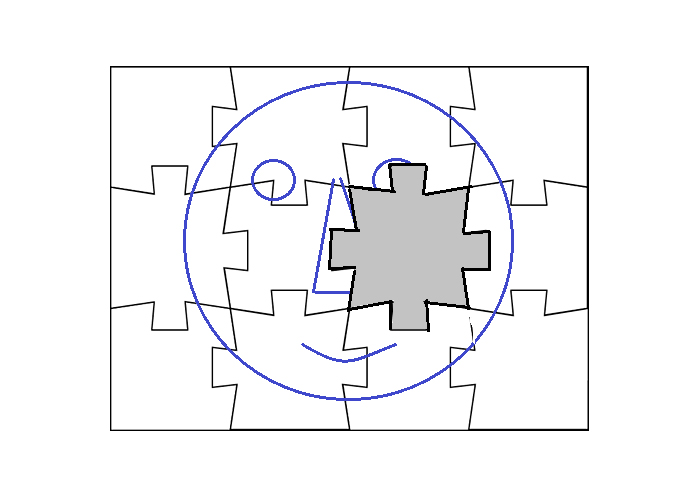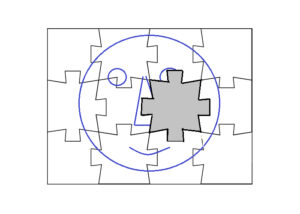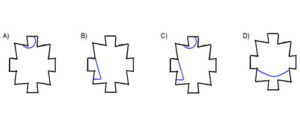 Answer: C
The figure represents a symmetrical face, with part of the eye and a part of the nose are missing.
The only piece that fits the description is choice C.
Matching Shapes
Two groups of different shapes are presented, some are similar and some different.  Many of the shapes are similar but not the same.  Some shapes are rotated.   You are asked to find the matching pairs of shapes.
Example Question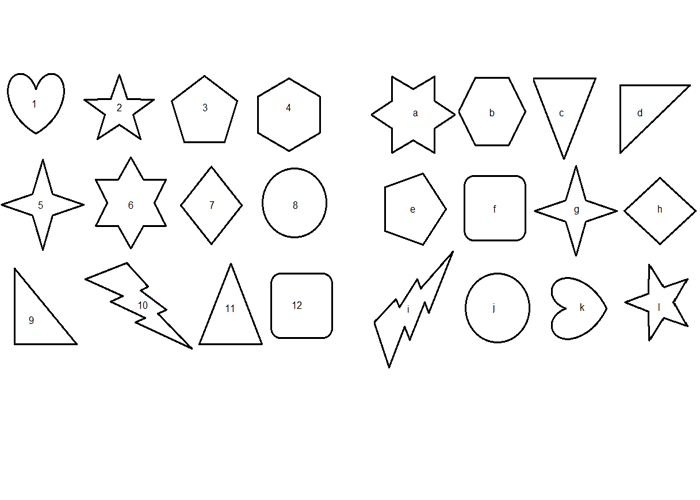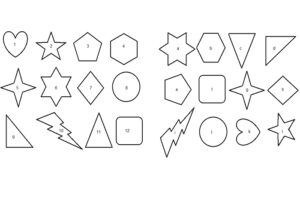 Which of the following set of matching pairs are correct?

a. 1-f    3-g    10-k
b. 7-c   9-d    1-j
c. 4-h   11-c   9-d
d. 8-j    5-g    9-d
Answer: D
Choice D is correct as 8 and j both represent circles, 5 and g both represents four pointed stars, while 9 and d both represent right triangles.
Visual Comparison
A series of four complex figures are presented and you are asked which has the largest area.
Example Question: 
Which figure has the smallest shaded area?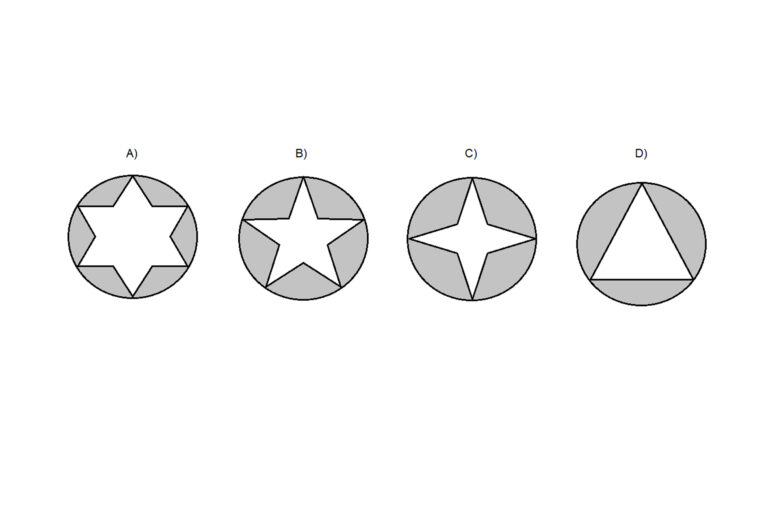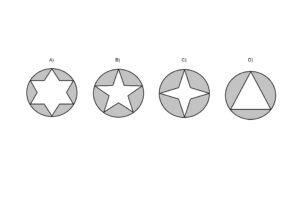 Answer: A
Figure A has the most white space. Since all the circles are identical, the shaded area of the first figure is the smallest.
Common Mistakes on Spatial Relations Questions
Misinterpreting the folding or assembly instructions.  Spatial relations questions often involve mentally manipulating two-dimensional or three-dimensional objects, folding or assembling to form a particular shape or pattern. A common mistake is misinterpreting, not following, or not understanding the directions. This leads to incorrect answers, based on a flawed understanding of the folding or assembling process.
Not visualize the transformations accurately. Spatial relations questions require you to mentally visualize the transformations of objects.   Incorrect visualization results in selecting an incorrect answer that do not correspond to the actual transformation.
Attention to detail.  Spatial relations questions often involve very subtle differences in shapes, patterns, or positions.  It is important to carefully analyze the given shapes and patterns to identify the correct transformations.
Overlooking specific rules or constraints or not reading the instructions.  Some spatial relations questions have specific rules or constraints. Ignoring or overlooking these rules can result in selecting incorrect answers. Read the instructions thoroughly and make sure you understand them before selecting an answer.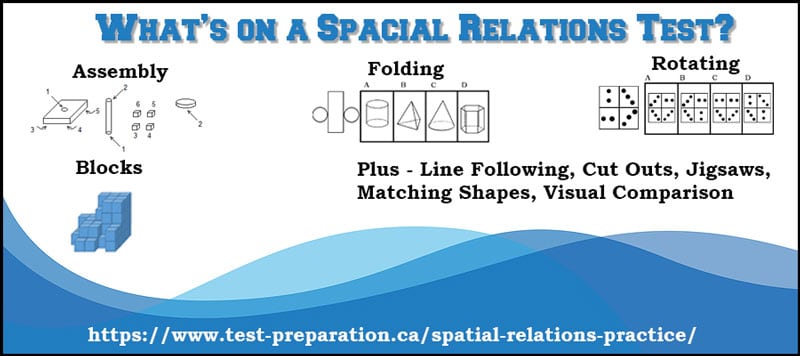 Abstract Reasoning Tests
Spatial relations tests and abstract reasoning tests are similar but have important differences.  Both tests measure cognitive ability, problem-solving and critical thinking skills.
Spatial relations tests measure your ability to visualize and manipulate objects in space, understand relationships between objects, and mentally rotate or transform objects.  Abstract reasoning tests measure your  ability to think logically and solve complex problems without relying on prior knowledge or experience. This type of test often involves tasks such as identifying patterns, completing sequences, or solving puzzles.
Abstract Reasoning Tests – Number Series
Example Question
1. Consider the following series: 6, 12, 24, 48. What number should come next?

a. 48
b. 64
c. 60
d. 96
Answer: D
The numbers double each time.
Number Series Practice and Tutorial
Spatial Reasoning and Mechanical Comprehension
Mechanical comprehension tests and spatial reasoning tests both assess different aspects of an your cognitive abilities related to mechanics and spatial understanding.
Content. Mechanical comprehension tests evaluate your knowledge and understanding of mechanical concepts and principles, such as gears, pulleys, levers, electrical circuits, forces, pressure, and more. These tests aim to assess how well individuals can apply their mechanical knowledge to solve problems in practical situations.  Mechanical Comprehension Practice 
Spatial Component of Mechanical Comprehension. Spatial reasoning tests, on the other hand, focus on evaluating an individual's ability to mentally manipulate and visualize objects in space. They measure skills such as mental rotation, spatial visualization, pattern recognition, and spatial reasoning. Spatial reasoning tests often involve tasks like identifying patterns, assembling objects, or mentally transforming shapes.
Overlap. Both mechanical comprehension tests and spatial reasoning tests require certain cognitive skills, such as the ability to visualize objects in three dimensions, understand spatial relationships, analyze visual information, and apply logical reasoning. Spatial reasoning skills are particularly important in mechanical comprehension tests because they assess the candidate's ability to understand how objects can be moved and organized in space.
Job Relevance Mechanical comprehension tests are often used as part of the recruitment process for technical positions that require knowledge of mechanics, such as engineering, skilled trades, aerospace, and emergency services. Spatial reasoning tests are used in various fields where spatial skills are crucial, including architecture, engineering, design, and many STEM-related professions.