Taking the GAT? We can Help!
Canada Post GAT Test Overview
The Canada Post General Ability test (GAT) is a requirement for most jobs at Canada Post.  The GAT test covers language, math, critical thinking, sorting and reasoning.  See below for a more detailed description of the test contents.  The GAT test is a timed test and you must complete the test in two hours.
About the Hiring Process
The hiring process at the Canada post as seen is not only fair but also comprehensive in terms of securing skills and upgrading talents. The online application process of filling in details makes it easier for candidates to apply for jobs several times or even apply for a variety of posts using the same resume but with small modifications to the custom requirements. The testing process ensures that the Canada Post hires workers who are fit and qualified for the jobs. The testing contains comprehensive coverage of the skills required for the job.
Computer or pencil and paper test
The GAT is generally done online through a special website. Candidates are not allowed to use any other devices during the exam.
Retaking the test
You must wait for 60 days from the date of the most recent GA test before you can retake the exam.
Hiring Process and Test Booking
The hiring process begins with online submission of your resume on the Canada Post website where you will find a list of vacancies for all locations across Canada. The second step is the pre-employment test.  If you are selected for the second step in the hiring process you are notified by mail and invited to take the online test. A telephone interview follows the pre-employment test and then an in-person interview follows.
Eligibility for Canada Post Jobs
Basic qualifications:
Driver's License – a valid driver's license for either class 5 or G with a record in safe driving for a minimum period of four years. The second qualification is
Physical Eligibility:  ability to lift heavy loads of about 60 lbs. or carry loads weighing up to 20 kg for a whole day. Physical fitness encompasses the ability to walk, climb, bend, pull and push equipment and descend stairs, delivering mails in all traffic conditions.  The ability to multi-task, work in all weather conditions and be available on quick notice is the third qualification.
English Language Competence – Written and verbal competency in English is required. Other qualifications – customer care skills, public relations (PR), and computing skills.
Other qualifications for a letter carrier include a secondary school qualification or its provincial equivalence. One should also be proficient in record keeping, reporting, material organization and cash management. The position entails interpersonal skills, integrity, cooperation, safety, and flexibility. The final requirement is the ability to pass the training program and tests.
How to get results
The GAT results are released immediately within 3 hours after the exam is completed and marked. If you pass the exam, then you are notified of your score in each section and the overall result.   Your score will determine if you are eligible for the next phase of the recruitment process, and if so, given a scheduled interview which takes not more than 30 minutes.
Scoring – What is a good score? How it is scored?
Postal clerks and post-delivery agents must score well to qualify for the applied posts. The Canada GAT scoring criteria are developed according to the scores of various sections of the test.
English – rated from  0-10
0-4 failure
5-7  pass
8-10 excellence.
The English score includes verbal and written English
Basic Math – rated from 1 – 10
You must score within the range of 5-10
The overall GAT test score involves integrating all the scores and measuring the candidates' performance on a scale of 0-100.
0-49 failure
50 -79 pass
80-100 excellence
A passing score does not necessarily mean you will be hired.  The hiring decision also depends on the interviews.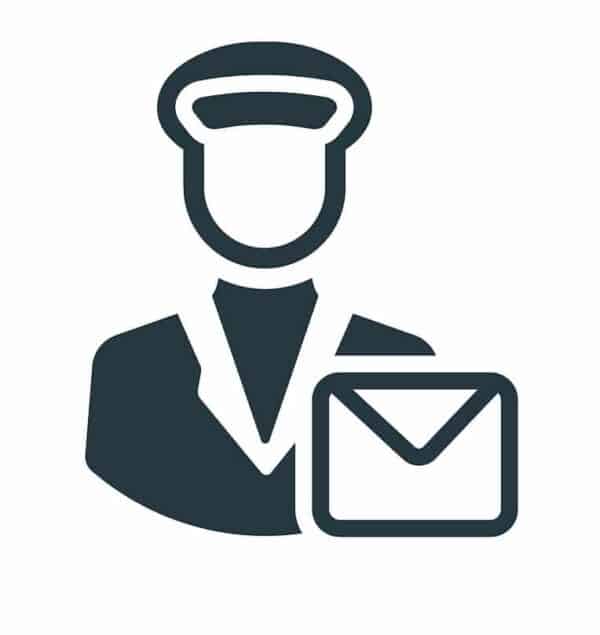 Address Sorting
The address sorting tests your ability to organize addresses alphabetically. Address sorting incorporates several parameters such as sorting according to names, locations, or intended destinations as well as the order mail is to be deposited into various addresses or dropped at various locations.
This section includes the ability to use search criteria such as name, city, state, ZIP code, street address among other parameters.
Questions in this section include, determining the difference or similarity between two addresses, or determining the range where a specific address falls. A range could combine both alphabetical and numerical such as A 3876-4123 Wellington ST East and B 5283 – 6145 Wellington West.
Memory Tests
In this section, the candidate is given 3 minutes to answer some questions that are deduced from the paragraphs as a way of testing memory fitness.
Several types of questions include:
Read 20 words to read quickly and remember 10 of the 20.
Several letters flashing on the screen and jot then down.
Read telephone numbers and recall within 30 seconds.
Oral and Spatial Intelligence
This section determines your ability to recognize patterns and diagrams from various dimensions or perspectives.  Spatial reasoning helps determine your ability to learn and adopt new skills quickly.
One example of oral spatial intelligence is the way we adjust our language when talking to someone we do not know. Employers are interested in verbal intelligence because it demonstrates how the customers or clients will view your communication with them.
Examples of this type of questions are a multiple-choice question to identify grammatically correct sentences or spelling. E.g. which of the following words is wrongly spelled? (a) Communication (b) Comprehension (d) Competition (e) Analogue.
Reading Comprehension
Reading comprehension assesses a person's ability to read and understand written English. It also tests your ability to analyze answers and choose the most suitable from available choices. The questions include:
Vocabulary (Meaning in context)
Spelling
Metaphors
Idioms
Finding the meaning of words and text analysis determines candidate's ability to think logically.  The ability to make inferences and find the main idea are the top priorities of the reading comprehension test.
Visual-Spatial Intelligence
Visual-spatial intelligence is the ability to create, retrieve and transform images such as visualization of objects and their shapes. This ability is critical for designing and redesigning structures or objects by visualizing them in your mind, and then turning them into reality.
In this section questions may include:
An image flashes on the screen and then you are asked to draw it.
A variety of shapes and figures that you must fit or match
Choose a shaped formed by folding the given shape
Count the number of blocks in a complex figure.
Quantitative Reasoning test
This section tests your knowledge of basic math and arithmetic required in most Canada post jobs. This section includes multiple-choice questions on basic functions of addition, subtraction, division, and multiplication.
What you need to know about the GAT Test
The GAT  test is multiple-choice and is administered online.   How to Answer Multiple Choice
The GAT is a timed test – you have 90 minutes to complete.  This means you will have approximately 22 minutes to answer each section of the test.  How to manage your time on test
The GAT is designed to be challenging, so don't be surprised if you find some questions difficult. However, try not to spend too much time on any one question. If you're unsure of an answer, it's usually better to move on and come back to it later if you have time.  The GAT is does not penalize you for wrong answers so guessing is a good strategy – make sure it is an educated guess though!
Preparation is key to doing well on the GAT (just like any test!).
Finally, remember that the GAT is just one component of the job application process. While it's important to do your best on the test, other factors such as your work experience, qualifications, and references will also be taken into consideration when evaluating your application.
Canada Post General Ability Test FAQ
Online Course – with free quiz
General Ability Test Preparation and Practice
You Receive: 
Over 275 Practice Questions
Interactive Quizzes
Full Answer Key with explanations
And a lot more!
GAT Study Guide – PDF Download Version
Complete Canada Post General Ability Test GAT with hundreds of practice questions
Practice Questions & Tutorials
• Reading Comprehension
• Quantitative Reasoning
• Address Sorting
• Visual Spatial
• Memory
• Oral Spatial