Canadian Graduation Equivalency Degree, General Educational Development (GED) Exam Test Preparation
About the Test
The certification process qualifies an individual for High School equivalency (High School Diploma) in the US and Canada.  It is used extensively in Ontario and Alberta. The Canadian version is equivalent to the Ontario High School Equivalency Certificate and the Alberta Certificate of School Completion.
Successful completion of the General Education Development Test places the candidate with the top 40% of high school seniors.
The US and Canada tests are slightly different – The Canadian version has questions on Canadian History and Canadian Government.
More detailed information on the GED and the American Council on Education Homepage.
Who can take the GED?
The age limit to take the GED varies by Province.
There is a separate test for Canadians and Americans. You will need to check with your local Testing Center (Ontario, Alberta etc. ) for specifications of test fees and registration procedures which can vary a little according to the jurisdiction.
Got Questions about the GED?
Taking the GED and have questions?  Ask me about the GED or Test Prep!
Minimum Age
You must be 19 in: 
Newfoundland
Labrador
Manitoba
Minimum Age
You must be 18 in:
Saskatchewan
Alberta
British Columbia
PEI
Ontario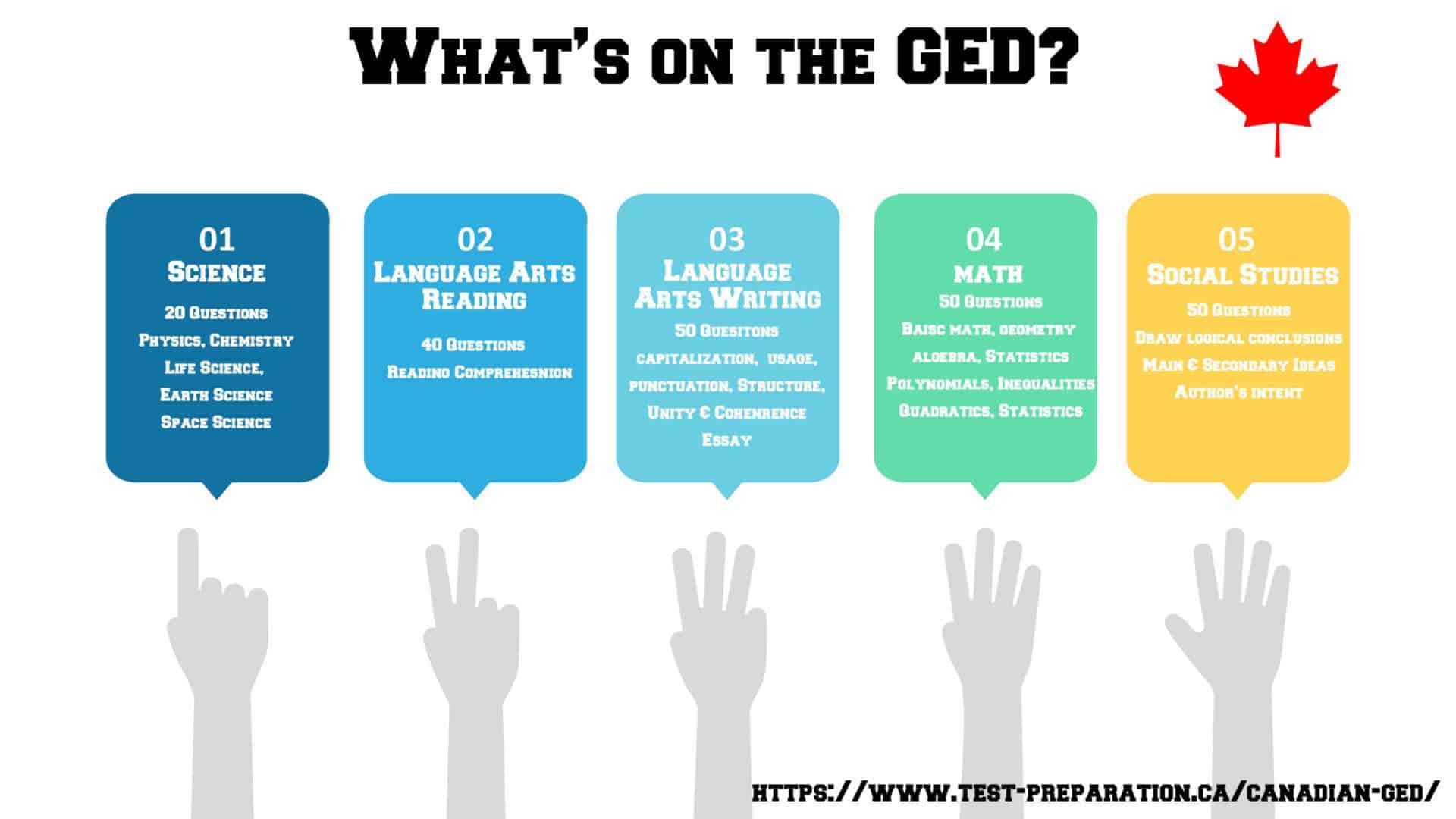 What is on the GED?
Language Arts, Writing — 50 multiple choice questions, one essay — 1 hour, 5 minutes
Social Studies — 50 multiple choice questions — 2 hours (75 min. for multiple choice, 45 min. for essay)
Science — 50 multiple choice questions — 1 hour 30, minutes
Language Arts, Reading — 40 multiple choice questions — 1 hour 20 minutes
Mathematics — 50 multiple choice questions — 1 hour 10 minutes.
What is a good score on the GED?
The score report is a total of all the five tests along with its average.
Maximum Score – 800 which will put the individual among the top 1%.
Individual Test Section – Above 410
Overall Test Section – 450
Each correct answer is worth 1 point
Passing scores are determined by the jurisdiction of your test center.
Non-profit or Volunteer Organization
If you are a non-profit or volunteer organization we can provide your with test preparation materials at no cost. Please contact us with information about your organization.