Everything you Need! 
Free online practice questions, exam registration information, test FAQs, Free online Practice Questions, Online Course, Test Prep, Multiple Choice Tips and Strategy, Test Taking Tips, plus PSB/HOAE study guides and practice tests in every format – PDF download and online course.
The Psychological Services Bureau (or PSB)  Health Occupations Aptitude Exam (HOAE) is designed to determine a candidate's readiness and ability to successfully complete a program as a health care professional. It will assess the student's abilities, attitude and skills and knowledge in a variety of areas and is part of the required educational curriculum for a healthcare practitioner.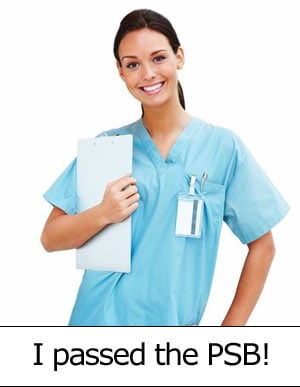 About the Test
The exam can be both a Computer-based format (CBE) or pen and pencil at specified exam sites depending on the school at which you are applying.  Tips for studying computer based exams.  The test is generally held in the Fall and Spring but can vary by testing sites.
The cost is normally $25 and you must register in advance
Results will be available immediately following the end of the testing.
The test is divided into five parts that have to be completed in two and one-half hours.
The five categories are:
Academic Aptitude-Part I
Verbal – (V) Vocabulary 30 questions
Arithmetic – (A) Basic Math – 30 questions
Nonverbal – (NV) Analytical Reasoning 30 questions
Spelling-Part II – 30 questions
Reading Comprehension-Part III 35 questions
Information in the Natural Sciences-Part IV – 60 questions
Vocational Adjustment Index-Part V – 90 questions
You will be scored for each section and then have an overall score
No calculators are allowed but you can use scratch paper and pencil.
Test results are available immediately with the computer based format and a copy can be sent directly to the school. The pen and pencil test is scored within 24 hours of receipt by the testing center and can be sent to the school to which you are applying.
Common and past names of the PSB HOAE Test
PSB HOAE Test
PSB Test / PSB Exam
HOAE PSB Test
HOAE Test / HOAE Exam
Health Occupations Aptitude Exam
Canadian Colleges that use the HOAE PSB
Canadian Colleges that use the HOAE PSB as part of their admissions process varies.  Here are a few :
Georgian College
Lambton College
Durham College
Conestoga College
Algonquin College
Northern College
Canadore College
Seneca College
Confederation College
Humber College