Everything you Need! Free NLN PAX practice test questions, exam registration information, Test FAQs, Test Preparation Tips and Strategies, plus study guides and online course
Overview
This is a 3-hour standardized entrance test meant to assess the potential nursing students who wish to be admitted into nursing colleges. It is also taken by every person who wishes to apply to HCC's PN or RN program.
Students can take the NLN PAX–RN once every six months with a minimum of three months is typically required before repeating the exam.
Registration
•  Check with the nursing school of your choice for specific information on their requirements for admissions.
•  Select a test site near you.
•  Go to https://www.nlnonlinetesting.org/ to register for the examinations online.
•  You need a credit card to make the payment for the exam.
Requirements
The minimum composite score to be eligible for the RN Program is 111.
The minimum composite score to be eligible for the PN Program is 99.
The HCC Nursing Department will look at the PAX composite score instead of the percentile score.
NLN PAX FAQ
Depends on your background. I would say it is "medium" Here are the contents Verbal skills - Word knowledge and reading comprehension Mathematics - Basic calculations, word problems, algebra, geometry, conversions, graphs, and applied mathematics Science - General biology, chemistry, physics, and earth science. See more
details here
For any test - try to make a "good" guess - which is better than nothing at all. If you really don't know the answer don't try making a random guess - in a 4-choice multiple choice question you only have a 25% chance of being correct for a random guess. There are a few tests that penalize for wrong answers but the PAX does not.
NLN Exam Details
 The exam is in a traditional pen-and-paper format.
 All exam questions are multiple-choice.
 There are experimental questions included, which are not scored.
 The non-scored questions cannot be distinguished from the scored questions
You have 3 hours to complete the exam.
Test begins at 9:00 m. Central Time – Allow up to 3 hours to complete the test.
Arrive at least 30 minutes before the scheduled start time for the exam. No one will be admitted late to the exam.
Score reports for the PAX-RN should be available within 24 hours from the exam date. Students should receive an email indicating the score report is available.  Besides, students can log in to their NLN PAX account to view a score report.
What's on the Test
The NLN Test comprises three subjects: verbal skills, math, and science, all taking approximately three hours. The test consists of 80 verbal ability questions (60 scored), 54 mathematics questions (40 scored), and 80 science questions (60 scored) in three separate sections. Candidates have 60 minutes to complete each section.
See below for NLN PAX practice test questions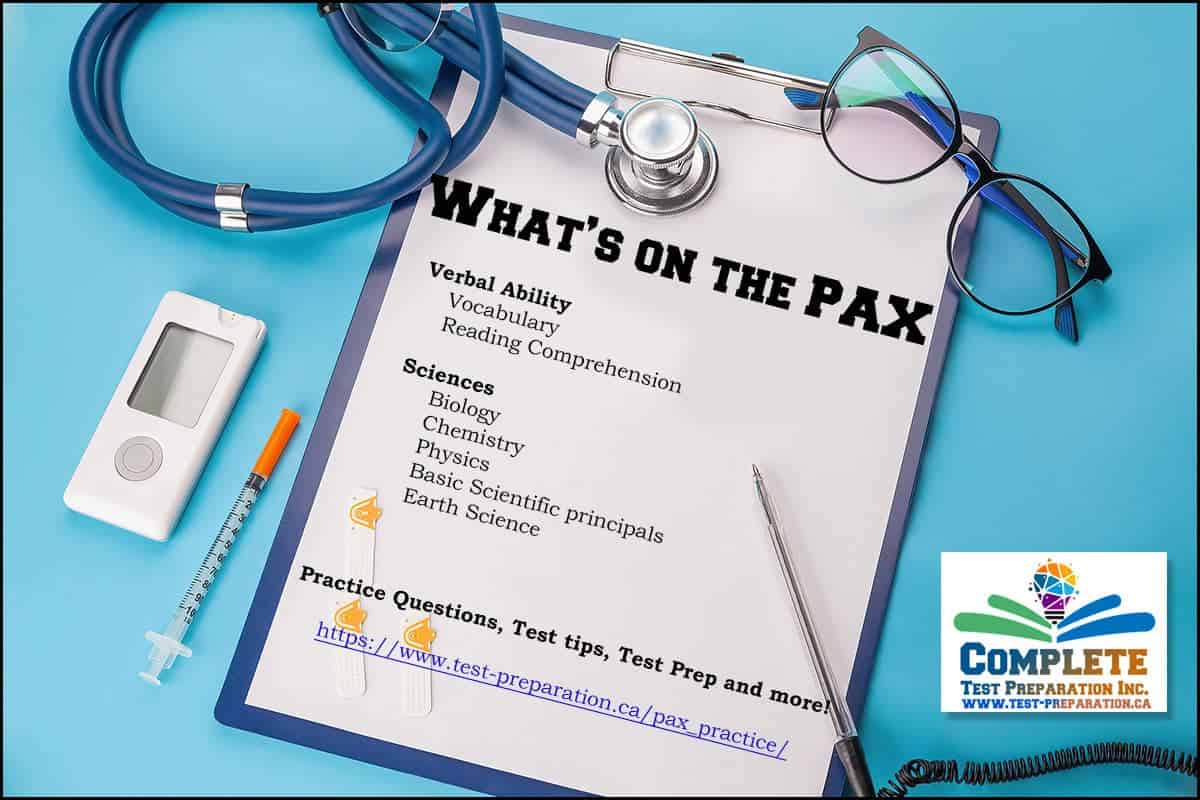 Mathematics
The reading section has 50 questions. Below is a more detailed list of the types of math questions that generally appear on the test.
• Basic operations – adding subtracting, multiplying and dividing whole numbers
• Square root
• Prime factors
• Median and mode
• Exponents
• Word problems
• Simple geometry
• IQ questions
• Operations with polynomials
• Quadratics
• Ratio and proportion
• Fractions, decimals and percent
• Speed, acceleration and momentum
Verbal Ability
The reading section has 47 questions that must be answered in 60 minutes. Below is a more detailed list of the types of reading questions that generally appear on the test.
• Drawing logical conclusions
• Identifying main ideas
• Meaning in context
• Distinguish fact from opinions
• Making inferences
• Identifying tone and purpose
• Summarizing
• Vocabulary (definitions and synonyms)
Science
The science section has 100 science questions which cover Biology,
Chemistry, Anatomy and Physiology and Physics. The Physics component is currently
being tested and is not given at all institutions. Be sure to check with your school for
the exact content of the exam you will be taking. Below is a detailed list of the science
topics likely to appear on the test.
Biology
• Cellular processes
• Scientific reasoning and scientific method
• Classification and Taxonomy
• Photosynthesis
• Genetics
Chemistry
• Atoms and molecules
• Protons and electrons
• States of matter
• Redox reactions
• Chemical reactions
• Acid and base
• Molarity
• Periodic table
Physics
• Potential, mechanical and kinetic energy
• Electricity – currents voltage and resistance
• Ohm's law
• Newton's laws
• Linear and rotational motion