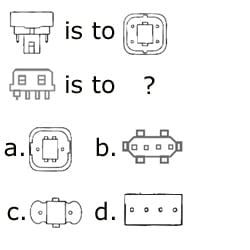 Abstract Reasoning Practice Questions
Intelligence Quotient IQ questions similar to the PSB HOAE, TACHS,
What is Abstract Reasoning?
Abstract reasoning refers to the ability to analyze, understand, and manipulate abstract concepts, ideas, or relationships that are not necessarily tied to concrete or tangible objects.
This includes recognizing patterns, identifying underlying principles, and making generalizations based on limited information. Abstract reasoning allows individuals to think beyond the specific details of a situation, draw inferences, and make predictions about unfamiliar or hypothetical scenarios.
Abstract reasoning questions on a standardized test generally ask you to determine the relationship between shapes or symbols in a series.   See also number series
Abstract reasoning is similar to pattern recognition, which is the ability to identify regularities, trends, or repeating elements in a set of information or images.  See also matching
Practice Questions
Directions: Questions 1 – 8: The first 3 figures are related. Choose the
figure that has the same relationship.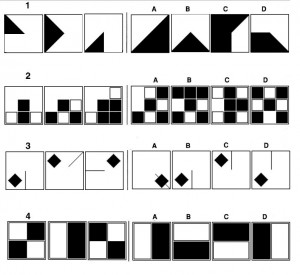 1. B
Each figure is created by adding the mirror image of the previous figure.

2. B
Each square has 2 blank squares.

3. A
The inner square is rotated clockwise on the corner of the outside square.

4. C
The bottom box is rotated counterclockwise.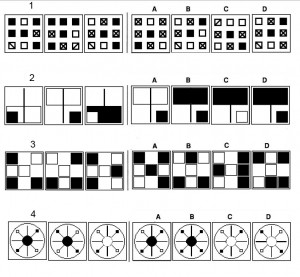 Answer Key
1. D
Each figure has one more square with a cross inside.

2. C
Two large square boxes and one small square box are inverted.

3. B
Every box has three black square boxes inside.

4. D
The shape with empty inside circle has been rotated clockwise.