About the CCAT Grade 4 Test
Canadian schools use the CCAT 4th grade test to determine children's cognitive abilities in grade 4. This test is commonly known as CCAT Level 10 as the children who take the test are expected to be around 10 years of age. Widely taken by school-going children, the test analyzes children's learning aptitude and is one of the requirements for joining a gifted and talented program. The CCAT Level 10 is different from normal 4th-grade school tests.   The structure  is different, and the questions are mostly outside the school curriculum. The test focuses on measuring one's ability to handle complex situations by reasoning.
At 10 years of age, CCAT Level 10 test-takers have acquired an advanced cognitive abilities, especially verbal skills. Students answer questions from three sections, the quantitative battery, the verbal battery, and the nonverbal battery.
CCAT Grade 4 Test Sections
Students must answer 176 questions on the CCAT Level 10 test. This test is structured as other CCAT tests, with three sections. Each section uses in-depth questions on each topic to measure a candidate's verbal, quantitative, and non-verbal abilities.
Verbal Battery
Verbal Battery
Test-takers are given three words in the same category, They must first determine the relationship between these words and select the fourth word from the choices.
Verbal Analogies
Test-takers are given a pair of words and must determine the similarity between the two words. This is followed by another word missing its pair, and test-takers will apply the relationship between the first pair to find the missing word and complete the pair.  Verbal Analogies Practice
 Sentence Completion
In this test, students will read a sentence with a missing word. They are to understand what the sentence means and select a word that completes the sentence. Practice Questions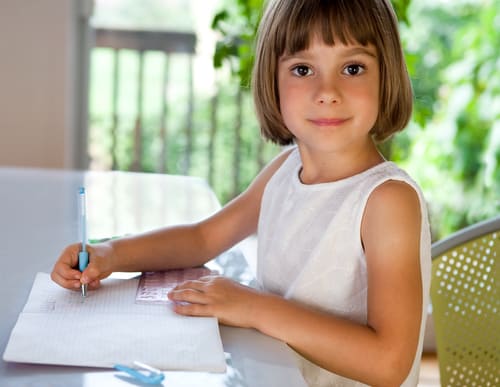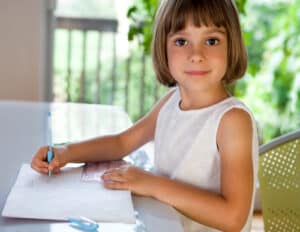 Nonverbal Battery
Paper Folding
CCAT Level 10 candidates are given a piece of paper with lines representing folds. Test-takers determine how the shape looks after it has been folded.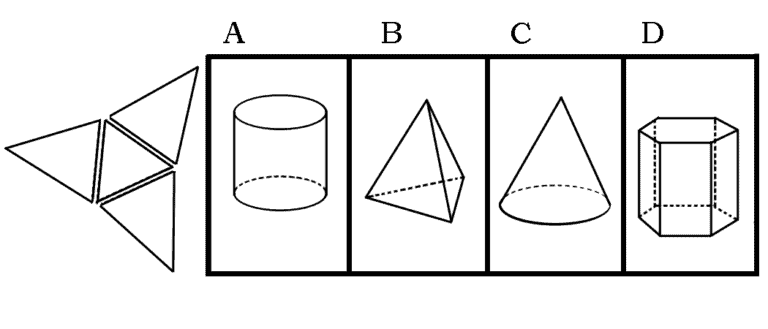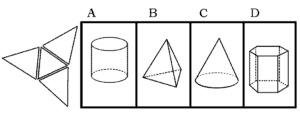 Figure Matrices
Here, candidates are required to solve a 2 x 2 matrix with three shapes. The top row has shapes that perfectly fit perfectly. The bottom row has a third shape without a matching shape. Test-takers select a shape that fits into the bottom row from the choices provided.
Figure Classification
Test-takers are presented with three shapes lined up together. To answer, test-takers must select a fourth shape that matches the category of the three shapes.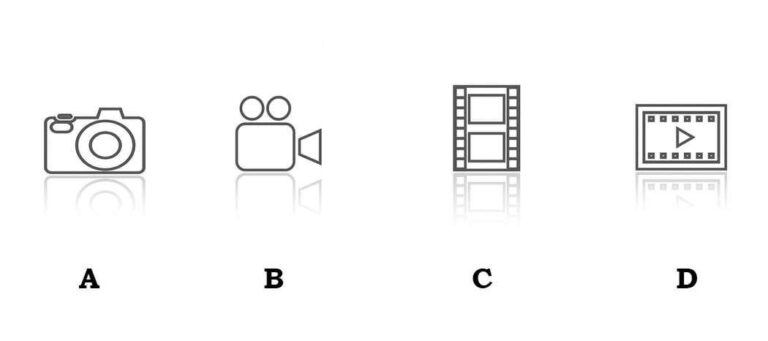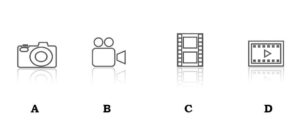 Quantitative Battery
 Number Series
Test-takers are given a series of numbers that follow a predetermined rule. They must choose a final number from the choices to complete the series.  Number Series practice
Number Analogies
Test-takers are given a pair of numbers and must decide the relationship between the numbers. They are then presented with another number missing its pair. Test takers must apply the relationship from the first pair to complete the second pair.
Number Puzzles
Test-takers are presented with a mathematical equation with a missing number. The equation will be solved by selecting a number that fits the gap and completes the equation.  Number Puzzle Practice
CCAT Grade 4 Test Score
How to Read CCAT 4th Grade's Test Score Report
The CCAT level 10 result slip has three scores that summarize the general cognitive ability of each student. Each score is reached at by summing the results of the quantitative, nonverbal, and verbal sections. Each report will have an Age Percentile Rank (APR) score that ranks all candidates in a specific age group, a Grade Percentile Rank (GPR) that compares students according to other candidates in their grade, and a Stanine (S) score.
A stanine score shows every student's learning aptitude on a scale from 1 to 9, with 9 being the highest possible score, 5 being average, and 1 being the lowest. APR ranks 10-year-old candidates within their own age group.
CCAT 4th Grade Tips
Familiarize with the time limits.
Simulated CCAT Level 4 practice tests can be very useful familiarizing students with time limits. Many practice tests will have a timer to update you on how much time is left to finish the test. The actual test has time limits for every section. Practice ensures students are comfortable answering the questions at the required pace.
Make the study time fun.
At 10 years of age, most children prefer playing outside to sitting in a room studying. To effectively prepare for the test, let your child think of study time as a game and not a task. This will make your child anticipate the study sessions and not think of it as a task to complete before going out to play.
How to prepare for the CCAT Grade 4 Test
Start  preparations a month before the scheduled test day. Allowing a child to have enough time to go through and familiarize themselves with the material will increase their chances of doing well in the test. Try to practice with your child regularly for a few hours so they learn gradually without feeling pressured or stressed. Avoid waiting until the last minute to rush your child through the material.
 To familiarize your child with the concept of time, use a timer in your practice. Each section of the test has a time limit.  Ensure that your child understands they cannot take all the time on one question or section. Having regular timed tests is very important if you are dealing with a slow test taker.
Go through the explanation of each question in detail. Make sure students go through the answer explanations, even when they answer the questions correctly. Explanations can provide important insights into the questions and answers.
Complete Guide to Test Preparation