TABE Practice Questions! Test of Adult Basic Education Skills
Reading
he reading section has 50 reading questions.
Evaluating meaning
Drawing inferences
Identifying main ideas and supporting detail
Computational Math
The computational mathematics section has 25 questions.
Convert decimals, percent and fractions
Calculate percent
Computational Mathematics 37
Operations using fractions, percent and fractions
Basic Algebra
Applied Math
Solve word problems based on the computational math content areas
Interpreting graphs
Basic geometry
Language
Language questions likely to appear on the test:
Punctuation
Capitalization
Sentence structure
Paragraph structure
Vocabulary
Spelling
PDF Download Study Guide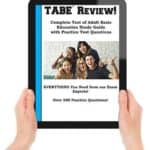 Complete TABE Test Prep and Study Guide including hundreds of pages of Tutorials, Self-Assessments, 2 sets of practice test questions for reading, computational math, applied math, English grammar, usage, punctuation and more.
Learn More and Start Practicing Today – PDF Version of Printed Version. Download after purchase. No shipping!  No waiting!
Study Practice Course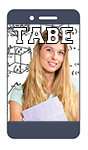 Complete Test of Adult Basic Education study practice course – practice questions, timed test, quizzes, tutorials and more!