Taking the Firefighter Entrance Test? Practice questions for all exam contents!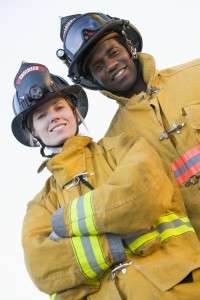 Understanding Written Material
The Canadian Firefighter reading comprehension section has 30 reading comprehension questions. Below is a detailed list of the types of reading questions that generally appear on the Canadian Firefighter test.
Draw logical conclusions
Make predictions
Analyze passages to solve problems or identify sequences
Vocabulary – Give the definition of a word from context
Summarize
Identify specific facts or details from a passage and distinguish facts and details.
Understanding Written Materials questions appear on these firefighter tests:
FSAB — McCann Entry-Level — Morris McDaniel S.H.I.E.L.D — NFST  —  Fireteam
Understanding Oral Information
This section includes,
Answering questions about specific facts in a spoken passage
Making inferences from information in a spoken passage
Firefighter tests with listening comprehension CPS Research & Standard & Associates (NFST)  CWH Research
Judgement and Reasoning
Judgment and Reasoning questions are common sense questions that do not require any special knowledge.
Tests with Judgement and Reasoning practice questions:
Writing
Types of writing skills questions likely to appear:
• English grammar
• English usage
• Punctuation
• Subject – verb agreement
• Sentence structure
Tests with Writing questions:
Writing and Grammar Practice
Logic, Reasoning and Analytical Thinking
Includes: 
Matching
Sequences & Series
Analogies
Firefighter Tests with Logic and Deductive Reasoning Questions: 
Logic, Reasoning and Analytical Thinking Practice
How to Answer Different Types of Questions
CPS Firefighter Practice Study Course
Complete Practice Study Course with self assessments, tutorials, quizzes, times test and more!
CPS Research & Standard & Associates (NFST)